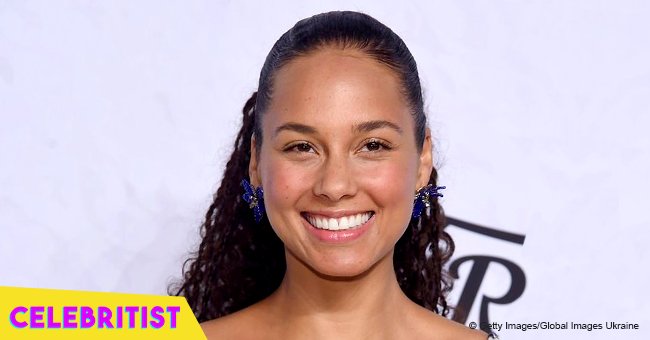 Alicia Keys stuns in floral top and mini shorts, posing next to luxurious black car
The R&B singer and her husband recently celebrated their 8th anniversary, and they decided to celebrate by going on a road trip. Alicia stunned fans by posing in mini shorts in the middle of the road next to her luxurious vehicle.
Alicia Keys and Swizz Beatz are one of the most iconic African American couples of the entertainment industry. They recently celebrated eight years of marriage and went on a mini vacation to Lake Powell, a reservoir on the Colorado River, straddling the border between Utah and Arizona.
Swizz shared several videos and pics from the trip, as the couple took in the unbelievable sight that the DJ compared to Mars, went kayaking, and drove around the rocky mountain landscape. They also enjoyed a boat trip and a day on the beach.
Keys looks stunning wearing a sunflower printed one-piece bathing suit as she stands in front of her husband, who's sitting on a beach chair, in one of the pics the rapper posted to Instagram. He wrote in the caption:
"The goal is to stay focused on your happiness & not other people's negativity #thedeansanniversary 8 Blessings on this Sunday #WeGOODlovesENJOY!"
Alicia, on the other hand, chose to enjoy her anniversary trip staying away from social media for the most part, but on Sunday, she finally came back by posting a beautiful photo posing next to her luxurious black BMW.
The 36-years-old was photographed rocking a floral ensemble featuring a crop top and mini shorts that enhanced her curves. She completed the look with strappy green sandals as she stood next to the vehicle looking to the side and with one hand on its surface, while the imponent rocky mountains gave the pic the perfect background.
Keys took to her Instagram to express her love for driving and promote the car's brand, as she wrote:
"One thing a lot of people don't know about me is that I'm a driver... I love driving. I'm driven.

I'm open and ready to go to the next place, the next level, the next height.

I love seeing women on their [expletive]!! Shine on ladies!! #BMWi8"
Just six days ago, the singer was declaring her love for her husband on their anniversary day. Keys seems to enjoy sunflowers a lot, as she posed with Swizz in front of a backdrop adorned with the bright yellow flowers and a vintage car. While she went for a black blouse and a printed skirt, her husband kept it classy but cool in a black t-shirt underneath a blue suit.
Alicia wrote:
"Cheers to 8 year my love!!!! WOW! US! This LOVE!!! So amazing!! So infinite! So powerful! So electric!! It's been the best 8 years of my LIFE!! I can only imagine the greatness the future holds!!

Thank you for showing me what life is, what love is, what dreams are. In infinite and endless awe and love!!!"
Keys has been spreading positivity and love throughout her entire career, so is good to see that she gets the same in return thanks to her husband and their two kids, Egypt and Genesis.
Please fill in your e-mail so we can share with you our top stories!