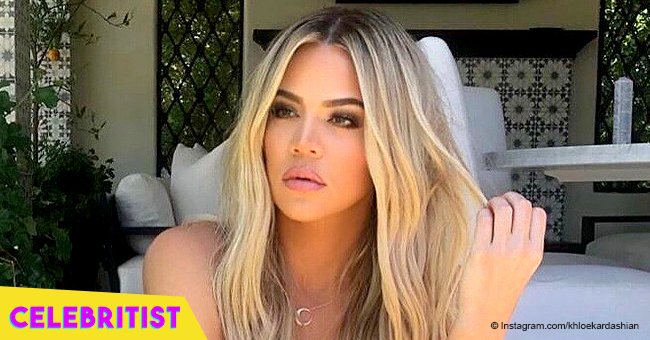 Khloé Kardashian seems to pay homage to her Armenian roots by sharing new photo of baby True
The new mom gave fans a treat with a pic of her little one on social media while bringing her Armenian roots to the table. Khloé recently launched her new Good American collection and opened up about her post-baby workout routine.
Khloé Kardashian gave birth to her first daughter with NBA star Tristan Thompson last April, and since then, she has been sharing cute videos and photos of baby True with fans over social media.
While the 34-years-old has chosen to put heavy filters on the baby's photos to protect her identity to some extent, her most recent Instagram post shows True cute face without any alterations.
The adorable tot is already stealing hearts with her big eyes and puffy cheeks. In the pic, True is rocking a sheer white dress and diapers as she rests comfortably against a black and gray printed cushion.
On her caption, Khloé wrote "Kyankus" which is the Armenian word for "My Life."
Khloé and her siblings, Kim, Kourtney and Robert, come from a family with Armenian ancestors. Their father, Robert Kardashian, was a third-generation Armenian-American. His great-grandparents Saghatel "Sam" and Harom Kardaschoff, were ethnic Armenian Spiritual Christian Prygun immigrants from Karakale (Kars in present-day Turkey). The family traveled to California in the early 1900', escaping the Armenian genocide of 1915 by months.
Khloé, Kim and Kanye West traveled to Armenia a few years ago to pay their respects for their late family while trying to raise awareness about the victims of the genocide that, to this date, the Turkish government still hasn't recognized.
These days, however, Khloé is busy taking care of her daughter and her business, as she recently launched the new activewear collection of her Good American clothing brand.
The Kardashian opened up about her struggles trying to get her pre-baby body back in a press conference held at N.Y.C.'s SIX:02 store in Time's Square on Thursday.
The star explained that after going back to her daily training, she realized the enormous toll her pregnancy left on her body and its resistance. She said:
"The first day, I could not do the most simple things. I was out of breath. It was just different. And I kind of felt really defeated. Like, 'Oh man. I don't know if I can do this.' After the first week, I was like, 'Okay. I am feeling a little better.' I am not breathing so hard. I don't need as many breaks. But I would say really after three weeks was when I felt good."
Khloé also revealed that while she wants to have another baby, she doesn't think her body is ready yet to endure another pregnancy. "But I definitely want more kids, I just don't know when that is gonna be. I heard that you should wait at least a year," she added.
Fans are praising Khloé for not forgetting her Armenian roots despite her busy life, as most claim that even the little details, like the use of an Armenian word on an Instagram caption, can make people get interested in the culture to keep up with their favorite star.
Please fill in your e-mail so we can share with you our top stories!