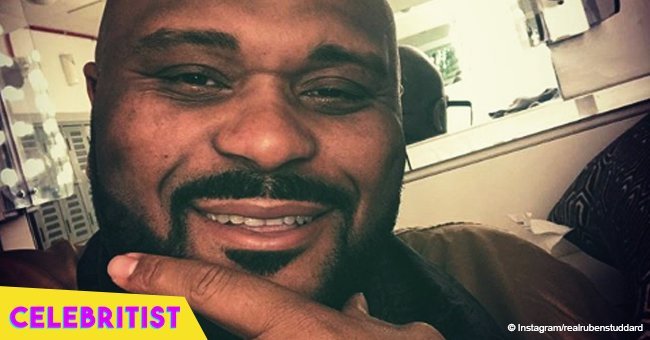 Ruben Studdard steals hearts with photo of his smiling mom, showing off their resemblance

Former American Idol winner and gospel music artiste, Ruben Studdard has proven once again to be the favorite of many with his Instagram post. In the picture celebrating his "favorite person in the world", Studdard is seen sporting a broad smile beside his mother, with whom he shares a definite resemblance.
He accompanied the post with a heartwarming message:
Happy Mother's Day to my favorite person in the world. Also happy Mother's Day to all the mothers of the world!!!
The singer's mother was showered with love in the comment section as fans and followers came together to wish her a happy mothers' day. Instagram user @purposeful4anointing showered Mama Studdard with prayers, saying, "Happy Mother's Day Mama Studdard May your children rise and call you blessed".
Another user @shanekiamobley1981 revealed that Studdard's mother had remembered to reach out to other mothers on the widely observed holiday:
"Happy Mother's Day Ms Studdard. And thanks for the Mother's Day flowers that you gave all of us at work on Friday"
One dedicated fan couldn't help gushing over the picture, noting that the singer's mother still looked the same as she did in 2003 when Studdard won the second edition of American Idol.
The 'flying without wings' singer was also showered with praises by his numerous admirers who pointed out how sweet it was of him to post the picture. User @lilboysmom commented: "@realrubenstuddard thats [sic] so sweet. Saw you in Tampa last night. Great show". One smitten fan said: "Happy Belated Mother's Day. Ruben is one phenomenal person. His gift from GOD is a Blessing. He can sang [sic] !! I asked him to marry me!! Lol"
Fans are happy to see the Studdards are smiling once again. Only about two months ago, they were mourning the death of Kevin Studdard, Ruben's big brother who died at the age of 44.
It was a trying time for the Studdard family and especially for Ruben who looked up to his brother and shared a strong bond with him.
Please fill in your e-mail so we can share with you our top stories!