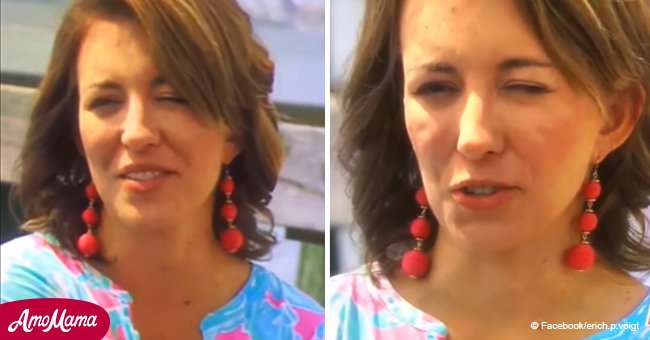 After Doctor notices lump on unknown woman's throat in TV show, he steps in to save her life
New York-based surgeon Dr. Erich Voigt reached out to Nicole McGuinness who appeared on "Beachfront Bargain Hut" through Facebook to warn her about the small lump that he noticed on her neck while watching the show.
The 33-year-old woman made an appearance on the HGTV's show along with her father to help her find her new home in May 2018.
The ear, nose and throat surgeon, Dr. Erich Voigt, happened to see something apart from her excitement to find her dream home on the show.
Read more on our Twitter account @amomama_usa.
Dr. Voigt took to Facebook on June 4, 2018, to share an update on the how the woman heeded his advice and went for the sonogram and biopsy he had recommended to her, learning that she had thyroid cancer.
Speaking to ABC News, Dr. Voigt said that he straight away noticed a lump in her neck as he is a head and neck surgeon and is trained to see these things.
The doctor has previously worked on many cases similar to McGuinness' in his career, and he also said that the lump looked asymmetrical and what also concerned him was the way it moved under her skin.
He wrote on his Facebook page that he felt obligated to let her know about his suspicions as he was quite sure that she might not be aware of it.
After deciding that he had to warn McGuinness, Dr. Voigt posted a clip from the show on his Facebook wall and hoped that it would reach her.
"I am watching a tv show and notice this woman has a left thyroid mass. She needs a sonogram and fine needle biopsy. I wonder if she knows and hope it's benign."
Erich P Voigt, Facebook, May 6, 2018.
Fortunately, after several people saw the post and through many connections, someone got in touch with McGuinness.
She took Dr. Voigt's advice and went to her doctor for a sonogram and a biopsy and was diagnosed with thyroid cancer.
McGuinness said that she could not believe that Dr. Voigt happened to watch her appearance on the show and correctly pointed out the problem. Expressing her gratitude, she said that it was "really a heartwarming story for me."
Dr. Voigt hopes that McGuinness will recover entirely from cancer as it is easier to beat it if it the doctors detect it early and before the symptoms occur.
It is because of Dr. Viogt tried to reach out and share the video that McGuinness will be able to go through proper treatment to stop cancer from spreading.
Please fill in your e-mail so we can share with you our top stories!