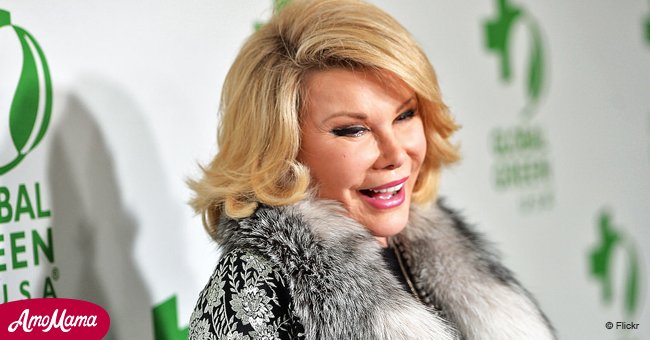 Joan Rivers' grandson Cooper is her 'greatest legacy' daughter Melissa said
According to Melissa Rivers, her son Cooper is Joan Rivers' 'greatest legacy' almost four years after the legendary comedian's death.
In a recent interview with People, Melissa, 50, said that Joan's impact is still felt every day.
Melissa is the only child of Joan, who rose to prominence in 1965 as a guest on The Tonight Show, and producer Edgar Rosenberg.
Follow us on our Twitter account @amomama_usa to learn more.
Joan passed away on September 4, 2014, at Mount Sinai Hospital in New York, having never awoken from a medically induced coma.
"I really notice my mom in my parenting," said Melissa. "I'll say something, and as soon as the words come out of my mouth, I'm like, 'Wow. I sound just like my mom!'"
"And then I hear my father coming out, too!" she continued, referring to her father, Edgar.
"I was a big negotiator when I was a teenager, and my son tries that, too. Every time I say, 'This is not my negotiation,' I hear my father! He used to say that all the time!"
Melissa cracked a joke saying that a friend told her she shouldn't negotiate with terrorists especially if she's the hostage.
The Beverly Hills, 90210 actress believed that she is a fair mother to Cooper, 17, but that she will cause his life to crash down around him if he pushes her too far.
"I think I'm a fair mom," she said. "I'm very clear on what the rules are. I'm very clear that these are the parameters in which you may operate on. If you stay there, you're good. If you don't, your life will crash down around you. I always remind Cooper, 'I can make your life miserable. Please don't tempt me.'"
Melissa, who has been in a relationship with talent agent Mark Rousso since 2015, told People that she sees her son as a way to keep Joan's legacy alive.
"The best legacy that I can give my mother — that everyone can give their parent — is to raise a good and decent child," she explained. "One who gives back, and has a clear understanding of the understanding of not just being good, but doing good, as well. Cooper is my mom's greatest legacy."
Melissa continued: "Cooper and I often talk about what is our family legacy."
"And I feel like our legacy is to live a life that you can be proud of on many levels. Giving your best professionally and personally. Giving back to others. Cooper and I always try to remember how fortunate we are, just by rite of birth. We can never lose sight of that. We're not entitled to anything. We work for what we have. That's how my mother lived."
Melissa was an accomplished equestrienne competing on the show circuits.
She hosted two of E! network's highest-rated specials - Oh Baby! Melissa's Guide to Pregnancy and Oh Toddler! Surviving the Early Years.
She also hosted fashion on the red carpet interviews for the E! cable network with her mother.
On March 1, 2013, Melissa and Joan were honored by the Ride of Fame, and a double-decker tour bus was dedicated to them in New York City.
Melissa filed a malpractice lawsuit against the clinic and doctors who performed surgery on her mother that caused her death in January 2015.
Please fill in your e-mail so we can share with you our top stories!