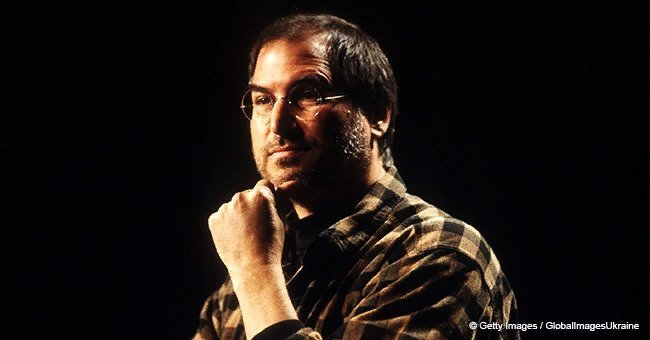 'You smell like a toilet': Steve Jobs' daughter reveals father's brutal last words to her
In her new memoir "Small Fry," Lisa Brennan-Jobs shared her final interaction with her father and Apple co-founder, Steve Jobs.
The father-daughter relationship had a lot of friction, which she discussed openly with Vanity Fair for their September issue.
Lisa visited her father every other month for almost a year before his tragic demise due to pancreatic cancer in 2011. On one such visit, she sprayed an expensive rose facial mist that she found in the bathroom before she left.
Jobs medical condition had deteriorated terribly during that time. He could hardly get out of his bed. Lisa hugged her father to say goodbye and was on her way out of the door.
Read more about Steve Jobs and Lisa Brennan-Jobs on our Twitter account @amomama_usa
"When we hugged, I could feel his vertebrae, his ribs. He smelled musty, like medicine sweat."
Lisa Brennan-Jobs, Vanity Fair, August 2018
As Lisa reached the door, Jobs called out her name. When she looked back at him, he told her that she smelled like a toilet.
Lisa had given up hope of any possibility of grand reconciliation between her and her famous father, who lost his life at the age of 56.
Lisa was born to Chrissan Brennan in 1978. Jobs and Brennan were 23 years old when they became parents. Jobs denied his paternity to Lisa until 1980.
The San Mateo district attorney ruled against Jobs's secrecy and forced him to take a paternity test. After the case, Jobs was ordained to provide child support.
Lisa shared that Apple went public after the case was finalized and Jobs's worth became $200 million. However, Jobs was still curt and stingy with Lisa. He even denied naming one of his pioneer computers, "The Lisa," after her.
Lisa shared another heartbreaking memory with her father related to the rumors about him she heard as a child. It was rumored that Jobs bought a new car every time his old one got a scratch.
When she was traveling with him in one of his luxury cars, she asked him if she could have the car when he was done with it. Jobs got very angry at her. He stopped the car and told her that she would never get anything from him.
Lisa was deeply hurt by her father's harsh words and wished that she had never asked the question. She has shared multiple instances with her father in her memoir "Small Fry" which will be published on September 4 by Grove Press.
Please fill in your e-mail so we can share with you our top stories!