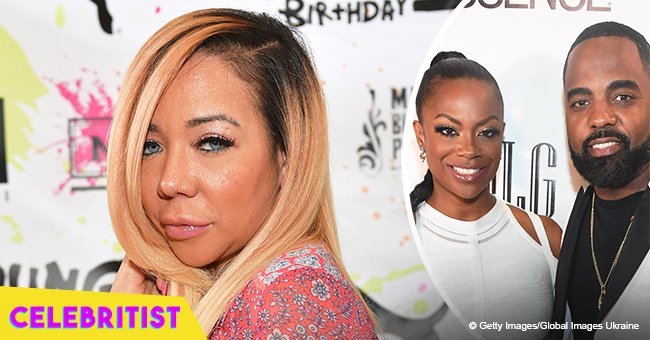 Tiny Harris is under fire for 'disrepecting' dress code at Kandi & Todd Tucker's party
Kandi Burruss threw her husband an epic birthday party this weekend and all guests adhered to the dress code, except one, Tiny Harris. Her daughter came to her defense and revealed the reason why the Xscape singer came unprepared in response to fans' unpleasant reactions.
Tiny Harris drew negative attention to herself after she disregarded the dress code attending Kandi Burruss' husband Todd Tucker's birthday party.
Kandi proudly gave her husband a lavish celebration to commemorate his turning 45, and she threw in a dress code for her 'Jerseys and Jordans'-themed party to make it more interesting. Guests were asked to come in a basketball jersey or jersey dress matched with a pair of Nike sneakers designed by Michael Jordan.
Toya Wright, her boyfriend, Robert Rushing, Rasheeda and Kirk Frost all came dressed for the occasion but not Tiny. She arrived in a sexy dress and thigh-high boots drawing more attention to herself and her disobedience.
Fans called out the star for "disrespecting" the host's wishes, but it turns out she had a valid reason. Her daughter Zonnique defended her mom by writing,
"Tiny was coming from working SO talk what you KNOW."
Tiny was, in fact, coming from a hosting gig and she rushed to Todd's party without time to change. The only reason she came unprepared was she didn't want to waste any more time missing out on her friend's husband's birthday bash. After all, friendship is far more important than a piece of clothing.
Meanwhile, Kandi raved about her TV producer husband's epic party as she shared a photo of the two of them from the affair. She also thanked her guests who came and explained to her fans why they were in sportswear.
"I just threw my baby @todd167 an epic bday party!!!!! I will be posting pics for days from this party. Thank you to EVERYBODY that came & helped make this a special night for @todd167. I appreciate you! The theme was Jerseys & Jordans if you're wondering why we have this on... #funtimes #TODD45 @HauseOfGlam"
In a separate post, Kandi shared another photo with her husband kissing her on the cheek. She explained in her caption that Todd felt it was his "Jordan year" referring to Michael Jordan's jersey number coinciding with his age.
'Real Housewives of Atlanta' castmates Kenya Moore, Eva Marcille, Porsha Williams and Shamea Morton were among the other guests who came. Kandi even shared a photo of cute couples and another of baby mommas all dressed in jerseys.
What a night!
Please fill in your e-mail so we can share with you our top stories!