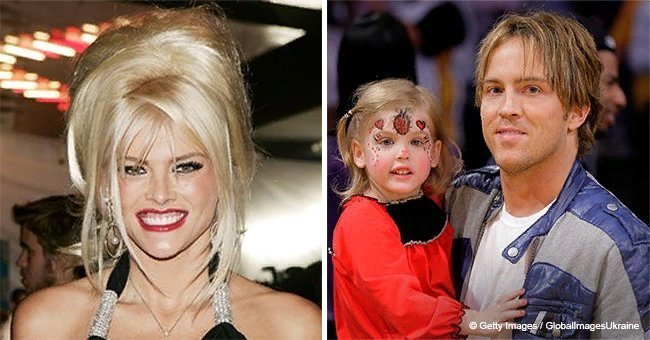 Anna Nicole Smith's daughter returns to the Bahamas for celebrating late mom's birthday

Leaving a little girl of only five months of age, Anna Nicole Smith left the earthly world, causing a real collapse in the industry.
Ten years after his death, his daughter, Dannielynn Birkhead, who was only five months old, is 11 years old and lives with her father, Larry Birkhead, who has decided to raise her out of the public eye and with her mother's living memory. . Despite living away from Hollywood, Dannielynn has followed in the footsteps of her mother in the world of catwalks, posing for Guess Kids, the same brand that was Anna Nicole face many years ago.
Dannielynn Birkhead attended the Kentucky Derby 2018 on Saturday, May 5, and the resemblance between them is amazing. Dannielynn walked the red carpet next to his father, Larry Birkhead in what has become an annual outing for them. She has been taking her daughter to the event for years and in a social media publication, she revealed that she met her mother there in the Barnstable-Brown Party in 2003.
Although the family drama surrounded his life from the moment of birth, his father has tried to lead the little girl to a normal life, like any other girl. For this reason, to celebrate her birthday, they decided to go to Universal Studios to have fun and spend their tenth anniversary as any other ordinary girl would.
The 11-year-old girl keeps a drawing that was created by Anna Nicole Smith during her pregnancy, which is currently inside the bedroom of Dannielynn Birkhead, whose name responds to a tribute to her late half-brother, whose death occurred five days before her birth.
The parents of the little girl met precisely in the Kentucky Derby of 2004, for that reason the emotionality of this day and the reason that the family attends each year to these races. Both live in the city of the event where the girl had to grow up without the presence of a mother
Please fill in your e-mail so we can share with you our top stories!