Taye Diggs warms hearts in sweet pic with rarely-seen mother & sister
The actor and singer melted hearts by posting an adorable photo with his beautiful mother and one of his sisters, weeks after opening up about his love life.
Taye Diggs is better known for his diverse roles in Broadway musicals like "Rent" and "Hedwig and the Angry Inch," and TV series such as "Private Practice," "Empire," "Murder in the First," "Daybreak" and "Rosewood."
The handsome 47-years-old is the oldest of five siblings born to actress and teacher Marcia Berry and visual artist Andre Young. When Taye and his siblings were kids, their mom married Jeffries Diggs, and they took his last name.
Taye, real name Scott, recently shared a gorgeous family portrait with his good-looking mother and his sister Christian on Instagram.
In the set of pics, the trio is posing in front of a white backdrop wearing casual outfits. In the first photo, Taye is making a funny face to the camera while the two women smile, and in the second one, Mrs. Marcia is seen smiling in the middle of her two children.
Rocking his characteristic fedora, Taye looks stylish wearing a black t-shirt with a patterned print and a bow tie of the same material. Marcia went for a lime green dress with a floral choker, a beaded necklace, and long earrings. Christian kept it simple with a sleeveless denim dress and a necklace.
"Mommy, sis and me," Diggs wrote in his caption, earning several compliments from fans who find cute the fact that he still refers to his mother as "mommy."
Instagram user @abcauthor wrote:
"I kinda love that you still call her Mommy. I've told my kids I expect nothing less as long as I live."
While @linda342646 got a bit sentimental after watching the pic and said:
"Give those amazing ladies a huge hug from me...I've lost my big sis and my mum....family is everything xxx."
@dupuy01, on the other hand, noted the resemblance between the Diggs siblings, adding:
"You and your sister look alike...beautiful family!"
Another member of the family who strikes a massive resemblance to Taye is his son with ex-wife Idina Menzel, Walker Nathaniel, who will be celebrating his 9th birthday in September.
Taye's Love Life
The former couple tied the knot in 2003 and decided to split ten years later. However, the actor recently revealed to US Weekly that they're still good friends and have a great co-parenting relationship. He said:
"I'm really lucky with his mother. We're both very accommodating with each other's schedules. We have to be. We put Walker first."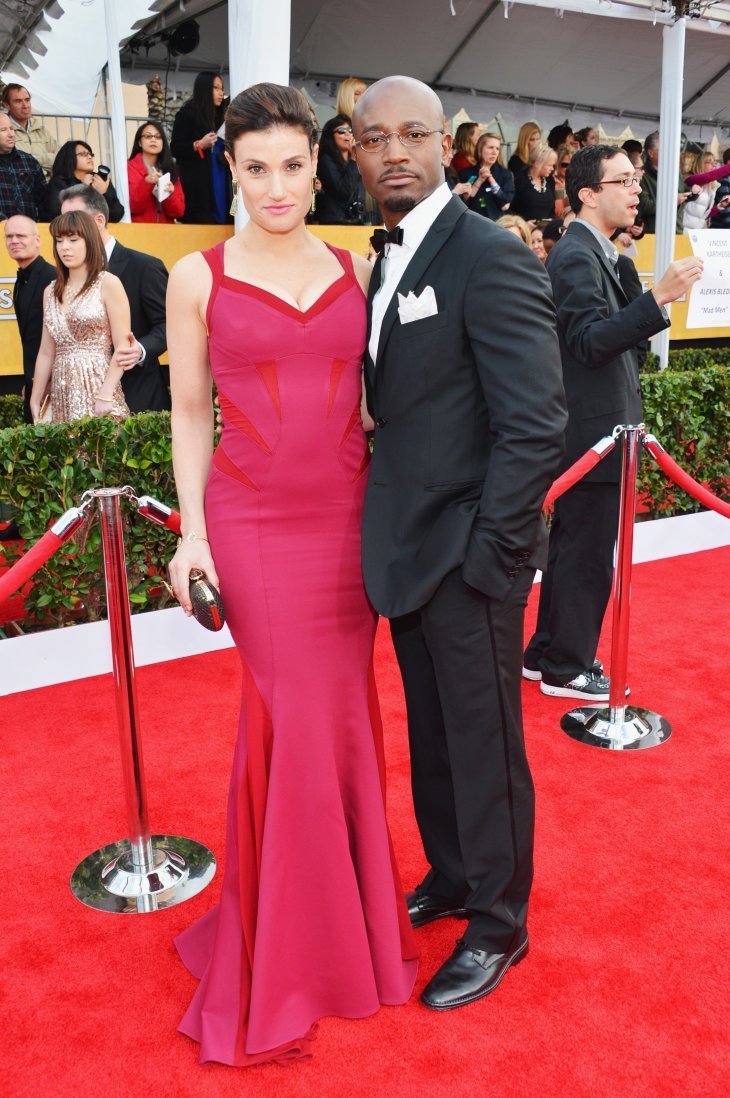 After divorcing from Menzel, Taye dated model Amanza Smith Brown for four years, but now he's back into the market. And while he's not opposed to the idea of meeting new people and dating, he's more focused on his career and his son these days. As he explained:
"My head's not anywhere near that place right now. I'm just focusing on work and being there for my son."
When asked about what he's looking on a partner, Diggs was straight as he said "Someone who's an independent thinker, open-minded, and caring," and as for deal breakers, playing games, playing hard-to-get, being petty or inconsiderate is out of the question for the star.