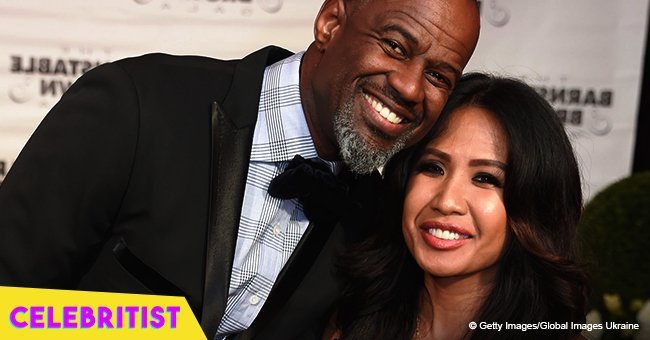 Brian Mcknight's wife stuns in see-through beaded wedding gown in pic

Brian Mcknight's wife, Leilani Mcknight, looked stunning in a new picture she shared of her see-through, long-sleeved wedding gown. In the new snap, the singer's wife is pictured with her twin who is wearing what looks like a bridesmaid gown.
It appears the post is dedicated to Leilani's sister as can be deduced from the accompanying message:
"Love u deeper than the deep blue sea my twin, even tho we are both not blonde anymore thank you for being almost as crazy as I am @pamela_g_dimailig ...happy #nationalsisterday #littlemermaids"
Leilani looked gorgeous in her custom-made Sabrina & Manning gown that consisted of 50,000 Swarovski crystals and featured an intricate sheer pattern covering all the bride's sensitive areas. Her sister also beamed in her bridesmaid dress with ruffle details on the bust area. Both women are seen holding on to a flower bouquet and smiling to the camera.
An impressed fan @_michibell_ expressed her positive reaction towards the statement gown: "Your wedding dress is gorgeous!!"
Leilani tied the knot with her singer husband, Brian Mcknight, last year in a romantic New Year's Eve ceremony. At the time, the 49-year old R & B singer and his new bride could not contain their joy and excitement as they shared with fans, friends, and family on social media.
Brian described the day as the "happiest day of our lives" and Leilani proudly showed off her new husband in a cute video.
Before their marriage, Brian and Leilani had been together since 2013. A year before they tied the knot, the lovestruck Brian was reported to have said: "we're more married than any married couple I know".
The 'One Last Cry' singer proposed to Leila in May 2017, and by the end of that year, the two were married. It was the second marriage for Brian, who had earlier been married to Julie Mcknight and with whom he shares two sons.
Please fill in your e-mail so we can share with you our top stories!