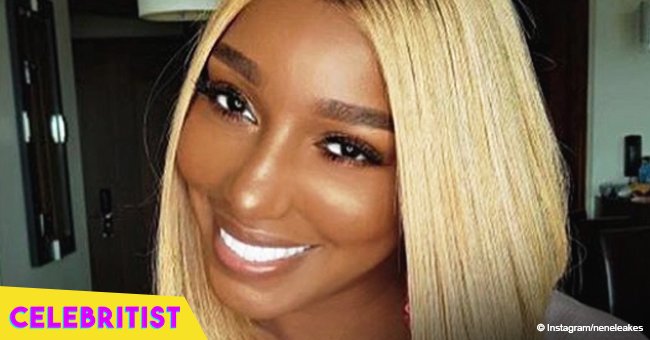 Nene Leakes shows off slimmer figure in lingerie and see-through robe with fur
The "Real Housewives of Atlanta" star is showing off her toned figure in a recent pic uploaded to her Instagram. Here's her secret to a slimmer body.
Nene Leakes is looking better than ever at her fifties, and she has never been shy to show off her killer body on social media. The mother of two recently stunned fans by posting a sexy photo on Instagram posing in black lingerie just before her bedtime.
The reality star looks impressive in a pair of black lace bra and shorts that she completed with a see-through fur-trim night robe. Many fans noticed that Leakes is rocking a slimmer figure, with a flat stomach and toned thighs, as she was caught in the middle of a laugh for the sexy picture.
"Nite vibes inside Casa Leakes," she wrote in her caption. And fans immediately took over her comment section to praise her new figure, ask for her secret and shower her with compliments.
Instagram user @tpiper2002 wrote:
"Wow, NeNe you have lost a lot of weight and are looking great!"
While @fseelah wanted Nene to leak her secrets for a slimmer body:
"Oh my @neneleakes, what have you been doing to your body girl. Any tips? Cause girl you are looking yaaaas."
And finally, @kancerfighterinheelz took the time to send Leakes and her husband good vibes on his recovery:
"@neneleakes YOU look absolutely amazing!!! A well-deserved way to rest relax & unwind...I pray for your strength to be the strength that Mr. Greg needs."
A few months ago, Nene shared with fans that her husband, Gregg Leakes, was diagnosed with cancer. While she didn't go into specific details, the couple has been working to fight the disease, trying every holistic therapy, and even going into a new diet together.
That is perhaps Nene's secret to her slimmer body. She shared a photo posing with Gregg on their kitchen last June and explained to her fans that cancer patients need all the support they can get on their journey, so she decided to go on a "pescatarian" diet to support Gregg's vegan one.
She wrote:
"Cancer patients rely on support a great deal! With that said, Gregg has switched his diet to Vegan and I'm supporting his efforts so I've given up all meat and considers myself a Pescatarian! It wasn't even hard for me! I just said, I'M DONE but i need a little seafood in my life." [sic]
However, Nene is not one to share her meal plans or exercise routines on social media, and in fact, she added some humor to her page by sharing an Instagram photo on August 2 that reads:
"People don't want to hear about your diet. Just shut up, eat your lettuce, and be sad."
Please fill in your e-mail so we can share with you our top stories!