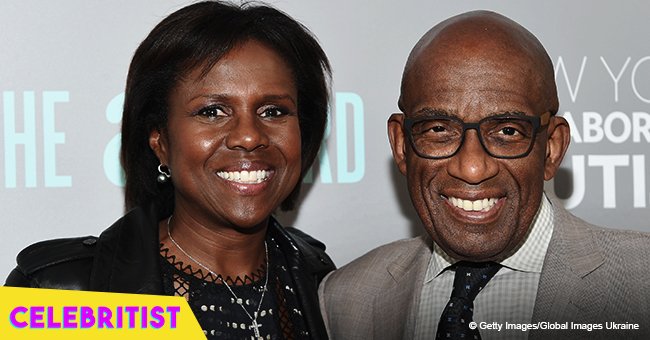 Al Roker's wife, 57, turns heads in retro colorful swimcap & one-shoulder swimsuit in new pic
ABC journalist Deborah Roberts is quite the stunner in a recent pic shared to her Instagram account as she gives a wink to the past wearing a retro swim cap. She has been married to NBC reporter Al Roker for 23 years, and they have two children.
Deborah Roberts is three years away from turning 60, and she's looking as stunning as ever. The Award-winning news reporter recently wowed fans after posting a gorgeous picture while having fun at the pool.
In the pic, posted a few days ago to her Instagram account, the mother of two is resting her arms at the edge of the pool as she shows off her colorful retro petal flower covered swim cap, a gift from her loving husband.
The cap is a nod to the fashion style of the '80s, and Robert knows too well how to pull it off. She completed her look with an off the shoulder gray and white swimsuit with a floral print.
Smiling brightly to the camera, Roberts wrote in her caption:
"Just call me Esther. Hubby got me this throwback colorful swim cap and I had to relive the old days at Girl Scout camp. thanks @alroker #girlscouts #nostalgia"
The thoughtful gift proves just how fun is the relationship between Roberts and Roker, even though their story is a bit more complicated than just the usual "falling in love at first sight." In fact, they met years before they started dating when Roberts was hired at NBA as a general-assignment reporter.
"Al was so sweet," Roberts told People years ago, and continued,
"He showed me pictures of his daughter and talked about his family. I just thought he was a nice guy, and that was that."
Roberts then was transferred to Miami and later Atlanta, but by the time she returned to New York, Al had already split from his first wife, Alice Bell. Then, the weather forecast reporter started to pursue Deborah romantically, even though she didn't saw him as anything but a friend at first.
By New Year in 1994, Roker proposed at the edge of the Grand Canyon. They tied the knot one year later, but Roberts revealed that not everything was smooth with their family.
Roker had a teenage daughter who was set on competing with her new stepmom, and Roberts matched her behavior. "There were times when we were the dueling girls," Roberts told People in 1999.
"Sometimes I was feeling, 'Why is Courtney getting her way? I want my way.' And Courtney was doing the same thing. It's not a piece of cake, but it's a lot better than it was. Courtney and I have both matured."
The couple now has daughter Leila, and son Nick, who has special needs.
Despite being labeled as an "odd couple" by friends and family, since they have different taste in almost every aspect of their lives, Roberts and Roker have made it work.
Their long-lasting marriage keeps going strong, even though they work at rival networks.
Please fill in your e-mail so we can share with you our top stories!