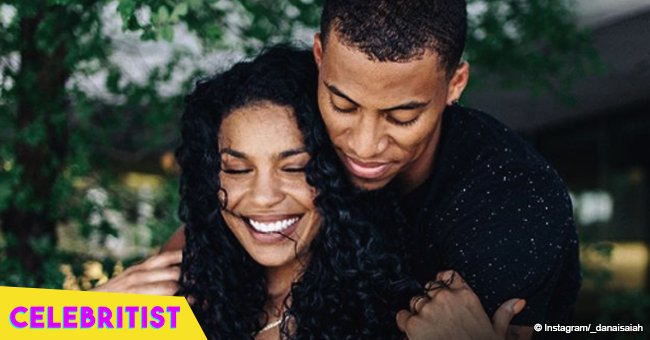 Jordin Sparks' husband shares pic of baby boy whose cute facial expression is 'priceless'
Jordin Sparks' husband Dana Isaiah can't get enough of their adorable little son, whose facial expressions are just priceless. In the most recent photo he shared, Dana Jr. could be seen chilling in the shade wearing nothing but a bandana and shorts.
Now that the Summer heat is in full swing, the couple made sure to bring their little boy out to enjoy some fun in the sun. Dana Isaiah Jr., or "DJ" as the couple would call him, could be seen leaning on an unseen person, presumably his mom, while staring into space as he enjoyed the warmth of the outdoors.
Taking from his son's smug expression, the dancer captioned his photo with "Sup."
After giving birth last May 2, Jordin Sparks is enjoying motherhood as it is. The new mother is doing quite a great job balancing being a wife, a mother, and an artist. A few days after her delivery, she attended the premiere of "Show Dogs" at the TCL Chinese 6 Theatres in Los Angeles, where she caught up with Entertainment Tonight's Kevin Frazier regarding her son, and how she was feeling post-pregnancy.
"I'm really good. I'm sore but good. He's here. It's just fun to stare at him. His name is DJ, named after daddy, and the moment was incredible! To finally have him in my arms and stare at him. He's really here. He made it. This is what we've been waiting for. He's just so perfect."
Unlike many other celebrity mothers who opt for a caesarian or natural delivery at hospitals, the singer chose to give birth at a birthing center, particularly the Natural Birth Center & Women's Wellness in LA.
Now that her baby has been here a couple of months, both Jordin and Dana are amazed by how their little bundle of joy has completely changed their lives.
"It's different. Oddly enough he made me sing better. I was able to hit notes that I didn't think that I could. I wasn't expecting at all. [But] the love is different than anything that I have [ever felt]. I don't even know how to explain it. I can't. It's unreal and I know that I have way more inspiration. I was inspired by Dana last year and now we have our family and I'm inspired by that."
Now that the "American Idol" winner is inspired to sing and hit all those high notes, we can expect her to head back to the recording studio soon to cook up another chart-topping album for all her fans.
Please fill in your e-mail so we can share with you our top stories!