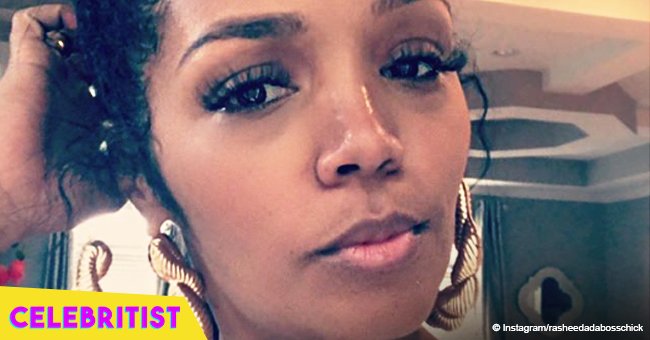 Rasheeda Frost looks 'thinner and stressed' in yellow shirt in recent selfie
Rasheeda Frost has had fans worrying about her health after she posted a photo of herself looking a lot thinner on social media over the weekend. This post comes after she has decided to let her husband Kirk back into her life after a cheating scandal that rocked their marriage earlier this year.
While Rasheeda promoted her "Pressed" clothing store in Atlanta last Sunday, fans noted something else other than the fashionable clothes. Draped in a mustard-colored shirt and green camo pants, the businesswoman looked slimmer than usual. Despite what her fans were saying about her husband getting her all stressed out, she was just genuinely promoting her brand saying "Issa work selfie!!! Come holla we In Here #pressed.".
Her Instagram commenters made sure to point out that while work might have made her all stressed out, it could have been her husband Kirk, too.
Kirk and Rasheeda have had quite a rough relationship these past few years after the rapper was confirmed to be Jasmine Washington's baby mama. The "D-Lo" manager was caught cheating on his wife, and later on discovered that he was the father of her two-year-old son Kannon.
This was not the first instance that Kirk was unfaithful to his wife, as, during a previous "Love and Hip Hop Atlanta" episode in 2013, he was spotted at a party thrown by Bobby Valentino, drenched in a hot tub full of women. Despite this, Rasheeda still welcomed her husband with open arms.
As previously reported here on Celebritist, Rasheeda has yet again decided to give her marriage another go, setting aside their issues with Kirk's baby mama Jasmine Washington. It is quite clear that the "Love and Hip Hop Atlanta" star's love for her husband is much stronger than any issue that they might face together, especially since after numerous cheating fiascos, she still takes him back again and again.
The couple has been together for almost a decade, getting married in 1999 and sharing two children together since. Although Rasheeda claims she is most definitely not ready to sort out her issues with Jasmine Washington, she is starting to become open to the idea of her two children, Karter, 4, and Ky, 17, getting to know their half-brother Kannon, 2.
Please fill in your e-mail so we can share with you our top stories!