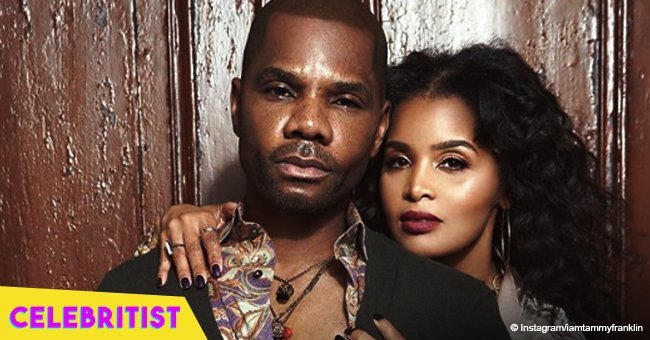 Kirk Franklin & wife Tammy become emotional in pic before son moves out of home
Kirk and Tammy Franklin are feeling extra sentimental after their last son at home moved out. Now that it is just two of them heading home every night, the couple decided to move someplace else.
While having your children move out one by one might be such a sad thing for any parent, coping with the loneliness becomes much easier when you have a strong and fun relationship as a couple. There is no better combination than being both playful and loving with your partner, and that's the perfect description for the kind of bond Kirk and Tammy have with one another.
After being married for 22 years and being a couple much longer than that, the Franklins have mastered how to keep their love strong regardless of how long they have been together.
Recently, Tammy took to Instagram to reminisce how far they've come as a couple.
"A friend captured this moment between my husband and I…And I can't stop looking at it The journey to becoming one takes a lot of work…. there was a time looking into my husband's eyes for too long, would scare me, and I would shyly turn away… To trust and love so deeply takes great vulnerability… But with each passing year as we grew more together, he loved me through all of my defenses! When I look at this picture I see a love and trust beyond the physical…But a bond that can only happen through consistently being committed to staying on the journey together!"
While Tammy went on the sentimental route and acknowledged how it takes a lot of work to make a relationship last long, her husband made sure to lighten up her mood on a comment he posted on the photo, throwing a few compliments in for himself.
"The sexiness that I possess also makes it extremely difficult to contain all of the magnetic attraction that flows from the anointing of my five foot four and a half inch frame. I'm just sharing all of the truth because she can't. So gazing into my eyes creates too much of a distraction from things like eating and paying bills. Nothing would ever get done. Bless Up."
The mother-of-four laughed off her husband's humor, saying that him always making her laugh is one of the reasons why she loves him so much.
While the couple got married in 1996, they have been together much longer than that. At 18-years-old, Kirk got Tammy pregnant with their first child Kerrion, who is now 30-years-old. Their first daughter Carrington came a year after. After their marriage, they welcomed two more children, Kennedy, 21, and Caziah, 18.
Please fill in your e-mail so we can share with you our top stories!