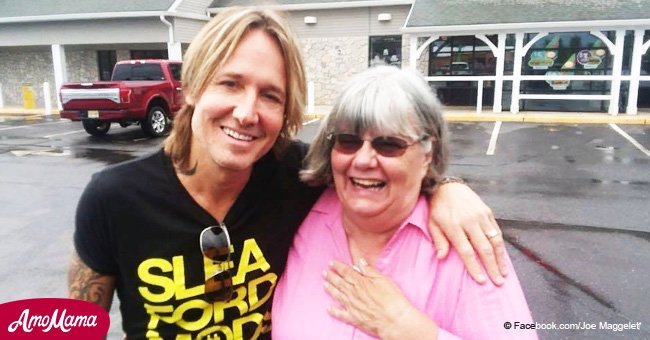 Woman tried to pay for Keith Urban's snacks thinking he was a customer in need
Ruth Reed, a teacher in New Jersey, noticed a man was low on cash and jumped in to pay the bill for him at a Wawa convenience store. Later on, she realized the man she offered to help was Keith Urban.
Thinking that he was a customer in need, Reed dug out some cash from her wallet and paid for Urban's snacks. When Urban told him who he was, Reed even argued with the singer and couldn't believe that it was indeed him.
Reed is a retired elementary school teacher and a current substitute teacher who vowed to help at least one person at Wawa's every week.
When she thought that Urban did not bring enough cash, she was quick to act and did not hesitate to help.
Follow us on Twitter at AmoMama USA for more stories and updates.
Speaking with CBS3, Reed said she did not know it was Urban and she didn't believe him at first when he told her who he was.
As soon as Reed was sure that it was indeed Urban, he happily agreed to have his picture taken with her.
Urban was in the area for his Graffiti U tour. He had to perform at the BB&T Pavilion in Camden later that night.
The people from Reed's town have always loved her because of her kind gestures. She shared that it had been three years since she started to help pay for some of the customers in Wawa.
She wrote on Facebook that she made a resolution to help someone at Wawa at least once a week.
Explaining how she ended up trying to help Urban, she shared, "This man was short a few dollars, he asked a lady with him if she had money. I jumped in and said I would pay and explained why. He thanked me and asked my name. I asked him his and he told me it was Keith."
She went on to reveal that she didn't believe him and asked who the lady was since it was not Nicole Kidman, who is Urban's current partner.
Urban said it was his sister and told her that she could ask his bodyguard if she still doubted him.
Reed continued, "It was then I realized what an idiot I was. He graciously allowed me to get my picture taken with him. Another Ruth Reed moment!"
Reed's Facebook account is private, and one of her former students publicly shared the post on Twitter.
As for Urban, his Graffiti U tour began on June 15, 2018, and is scheduled to end on January 5, 2019.
Please fill in your e-mail so we can share with you our top stories!