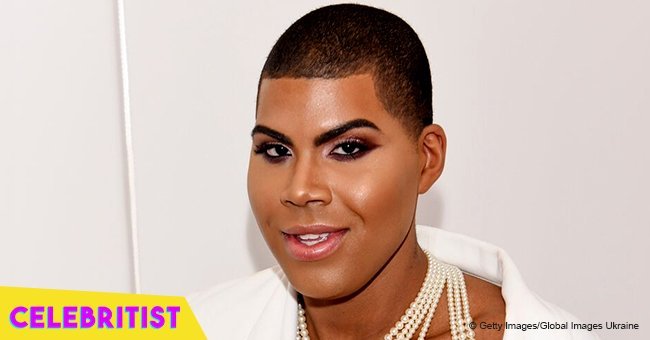 Magic Johnson's son, EJ, turns heads in red mini dress, flaunting his long legs in new pic

The son of basketball legend, Magic Johnson, EJ, is no stranger to the glamorous life and his Instagram bears proof. Flaunting his legs in a red mini dress, the Rich Kids of Beverly Hills alum accompanies his latest post with a heartfelt message that points to his struggles with self and societal acceptance.
The photo shows EJ in a group snap with friends as they celebrate his best friend's birthday. He is seen striking a sultry pose in a red mini dress that leaves his arms and long legs bare. The 26-year old accessorizes with a full face of makeup and trendy cat-eye sunglasses. Birthday girl, Lyric Leigh, is wearing a mustard-yellow gown with thin straps and has one hand placed over EJ's as she flashes a smile at the camera.
EJ's caption is quite revealing of the star's troubles with acceptance:
"Happy birthday to my best friend who has strutted with my in princess gowns since day 1 @lyric_leigh words cannot express how much I love and appreciate you in my life. Your constant love, respect and companionship gives me the confidence to live my truth every single day and I am so blessed that even as baby divas we recognized the greatness in each other. I love you #leoseason #teamthis"
Leigh also took to her Instagram to share the same photo with the caption: "Girlfriends revival (I'm Joan fyi)"
Coming out as gay was not an easy decision for the reality star who not only had to face rejection from society, but also from his celebrity father. "This is not what I wanted for my son," lamented Magic who took a while before finally accepting his son's sexual orientation.
The renowned athlete tried to talk his son out of his decision, reminding him that society was highly unaccepting of people like him. Eventually, however, with the help of his wife and EJ's mother, Cookie Johnson, Magic came to accept and support his only son. Recalling the particular day, EJ said:
"He just was like, 'We're gonna get through this, and you know, I just need time' and we both just started crying a little bit."
EJ, who currently co-hosts MTV's Teen Mom after-show, has come a long way from 2013 when he first came out, but he still has a lot of non-fans.
In true EJ-style however, the former "EJNYC" star has never let that stop him from rocking his signature style: feminine and fierce!
Please fill in your e-mail so we can share with you our top stories!