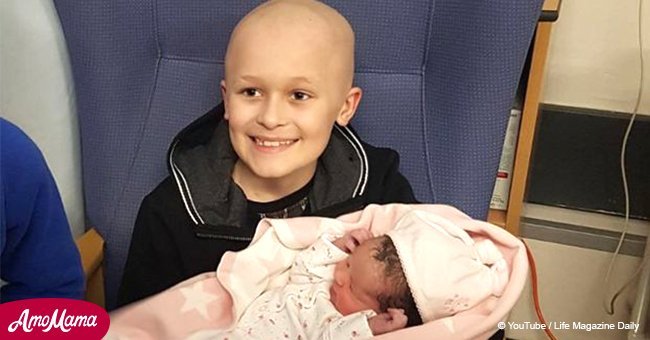 Tearful moment terminally ill boy holds newborn baby sister before dying of cancer
Bailey Cooper, nine years old, was told he wouldn't make it in time to see his younger sister being born. He defied all odds and fought against cancer until he held her for the first time.
For 15 months, Bailey battled through a terminal cancer called Non-Hodgkin lymphoma. Despite his illness, Bailey had a good heart and a happy disposition. All he wanted was for his parents to take care of his siblings when he was already gone.
When his mother, Rachel Cooper, gave birth to her daughter in November 2017, Bailey picked her name and called the baby Millie.
After she was born, Bailey was excited to hold his sister for the first time. Photos of him cradling baby Millie showed how happy he was at the time.
Follow us on Twitter at AmoMama USA for more stories and updates.
Soon after Millie was born, Bailey's condition started to become worse. His father, Lee Cooper, shared how good of a brother he was.
Bailey would often volunteer to change and wash baby Millie. He would also sing to her most of the time.
The young boy, who was diagnosed in 2016, knew that he didn't have much time. He told his parents that he wanted to have all the guests dressed up in superhero outfits during his funeral.
As revealed on the Daily Mail, Bailey told his parents, "You're only allowed to cry for 20 minutes. You have to take care of Riley and Millie."
Riley was his younger brother who was six years old at the time.
Bailey was taken to the hospital on December 22, 2017, and by 11:45 on Christmas Eve, his parents knew it was time. They were at his bedside.
"We knew it was not going to be long. We told him 'It's time to go Bailey. Stop," recalled Rachel.
"The moment we said stop, he took his last breath and had just the one tear come out of his eye. It was peaceful," she added.
Bailey's diagnosis was late. When they found out, he was already in Stage Three.
At his funeral, many people came to pay their respects. Even Bristol Rovers FC captain Tom Lockyer went to the funeral. He and Bailey became friends since the boy was a football fan.
Non-Hodgkin's lymphoma is a type of cancer that starts at the lymphatic system, as explained by the Mayo Clinic. The lymphatic system is a network of glands and vessels that can be found all over the body.
Often, painless and swollen lymph nodes in the neck, underarms, or groin are considered common symptoms of cancer.
Please fill in your e-mail so we can share with you our top stories!