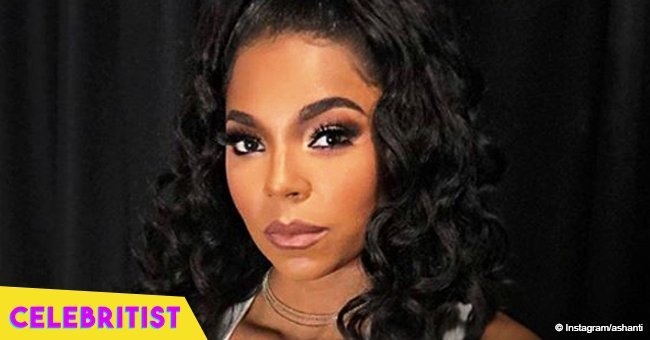 Ashanti, 37, flaunts enviable curves in latex midi-dress in latest pics

37-year old singer, Ashanti, has all the curves in the right places, and she knows just how to show it off. The Hip-Hop and R&B star, who is currently working on a joint album with Ja-Rule, shares a picture of herself out at night and fans can't get enough.
Standing in front of a white luxury car, the singer takes a cross-legged pose in her figure-hugging latex dress. Her outfit is definitely one to call attention, with its bright colors and graphic design of a woman blowing a kiss. She finishes off the look with bangles, large hoop earrings, dark sunglasses, and a pair of mustard-yellow pointy shoes. Her black hair is parted to the side and falls over her shoulders in soft waves.
The photo is accompanied by a cheeky caption that includes a tongue-out emoji:
"Late nights in latex... got a late text..."
Ashanti hasn't been making as much music as she used to when she first broke into the music scene in the early 2000s, but the "Always on Time" hitmaker still has avid followers. On Instagram alone, there are 3.5million of them, and they took to the comment section to let her know what they think.
"Looking good baby"- @ hugougk1

"That dress though!!!"- @nelliijean

"@ashanti is the fine wine of female pop stars, she just keeps getting better"- @mattseey

"sis, are you coming to South Africa soon????? please say yes!!!!"- @dime_moe

"You look absolutely amazing! These ppl able to send you a text are damn lucky. Omg! Been a fan forever, you still look awesome. Love you loads!"- @telenrse911
Ashanti, who has five albums and numerous hits to her name, is set to release a sixth one soon in collaboration with Ja-Rule. She disclosed earlier in June:
"Listen, me and Rule, it's so funny because we've been talking about that for so long, but I think now he's like, 'OK, now it's time to do it.' So we're going to carve out the time and make it happen."
Please fill in your e-mail so we can share with you our top stories!