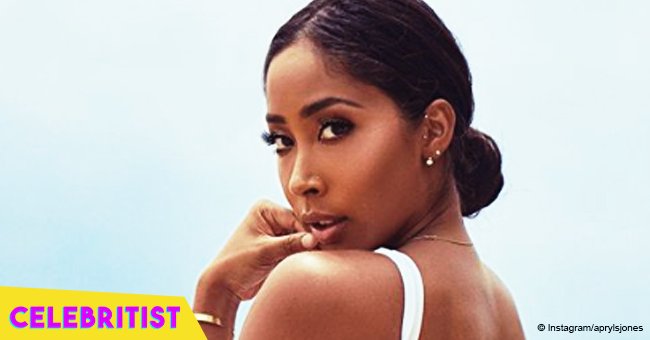 Apryl Jones leaves little to the imagination in blue dress with waist-high slit
Apryl Jones goes braless in a long blue dress with waist-high slits. This comes after she finally spoke up about the rumors of her getting back together with her baby daddy Omarion.
Now that Apryl Jones is single and ready to mingle, she made sure to spice things up a little by posting a revealing photo of herself braless, while wearing a long blue dress with waist-high slits. Her confidence is sky-rocketing, making us wonder why Omarion ever let her go in the first place.
Apryl and Omarion separated back in 2016, just four months after welcoming their second child together. Now that it's been two years since their breakup, the former "Love and Hip-Hop: Hollywood" star felt the need to address issues of her and the singer getting back together sometime soon.
In one of Instagram's latest features, a user is allowed to garner questions from followers. After Jones used this particular feature, a fan asked if she missed the "Ice Box" singer, to which she firmly responded with a no. While there seems to be no chance of them getting back together, she made sure to show respect to her baby daddy.
"Let's nip this in the bud... No. He is the father to my kids, will always be. Some things don't always work out, and some people change. Wish him the absolute best."
While things appear to be more amicable between the ex-couple, it wasn't always like this. Last year, Apryl felt the need to call out her ex-boyfriend on social media, who she felt was not doing enough to care for their children. While they have gone their separate ways, the mother-of-two made sure to let people know how she felt.
"You can't make someone responsible. They either wanna parent or they don't. and when they don't I pray there is one parent who will."
According to BET, the former reality TV stars separated because of the R&B singer's alleged infidelity. They share two children together, A'mei Kazuko Grandberry, 2, and Megaa Omari Grandberry, 3.
Please fill in your e-mail so we can share with you our top stories!