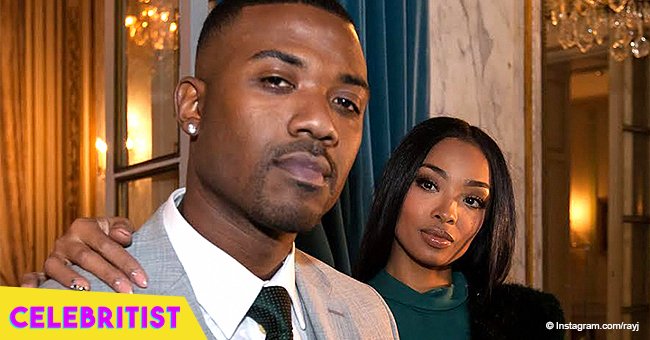 Ray J and Princess Love's baby daughter melts hearts with curly hair in recent photo
Melody Love Norwood is one of the cutest babies ever, and her parents know this. Ray J and Princess Love have been beaming with pride and joy since their little bundle of joy was born, and it's quite easy to see why.
Ray-J and Princess Love's daughter Melody has been stealing hearts since she was born, especially since her parents have been sharing bits and pieces of their new life as a family since day one. The adorable baby continues to keep fans amazed at how a baby could be so cute.
In one particular photo that her mom shared, she tries to tilt her head up to stare at her mother who lovingly gazes back at her. Little Melody looked a bit too serious in that particular moment as if she looked up in awe of her beautiful mother while studying her facial features. The doting mom kept her child close to her chest, realizing how wonderful motherhood felt.
From that particular photo alone, you could tell that it was such a precious moment for Princess, who was cherishing the time she was spending with her young child and realizing at that moment just how much love she has for Melody.
"Finally found the love I've been searching for all my life #unconditional"
Even fans of the little family couldn't help but chime in on the photo, sharing their comments on the picture's comment section:
"@thelifeofmiyori: She makes me want a little human of my own! Sooooo cute!"
"@callme_goldie_: Just adorable! I hope to have this feeling again one day"
"@melanieguess723: Truly the greatest feeling/moment is when I became a mommy! You know God is real because the love you feel when you lock eyes with your child could only come from love. Congrats to you both, welcome to parenthood!"
It was back in May when Melody entirely changed her parents' worlds, making them change for the better. After 24 hours of labor, she finally arrived, and all was well in the Norwood household.
While Princess had quite a hard time during labor, Ray J was too excited to be a father, even sharing a video to show appreciation to his wife who just gave birth. He also made sure to show some snippets from their pregnancy journey in the latest music video he shared just in time for Father's Day, which showed just how much he loves being a dad.
Princess herself has been sharing motherhood photos with Melody, including the day-to-day tasks of watching her sleep, feeding her, and even just gazing lovingly at the little ball of sunshine. The little girl has captured her parents' hearts, and those of their fans as well. Check out some of her most precious moments here:
Now that Ray-J has another mouth to feed, he has been trying to extend his empire by building on a new tech company called "Ravcon." His love for video games and gadgets made him think of ways to create his company, focusing on electric transportation. Raycon is the mastermind behind the Scoot E-bike, and since then, it has been growing with countless opportunities. Aside from these electronic rides, they have also been producing wireless music products and drones, catering to many markets.
Gone are the days when Ray J was known for being the life of the party and instead is ready to be known as the hardworking dad of Melody Love Norwood who is responsible for a billion-dollar company.
Please fill in your e-mail so we can share with you our top stories!