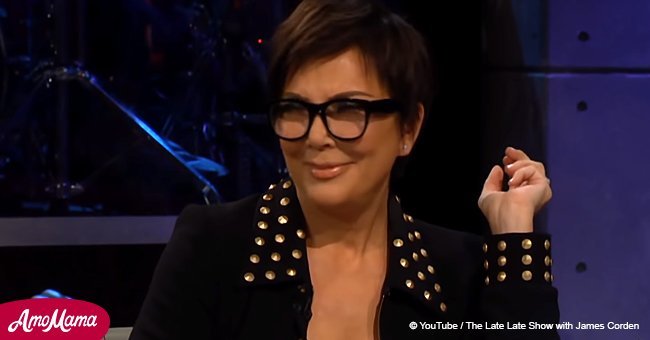 Kris Jenner, 62, sparks engagement rumors after her bizarre reaction to host's question
Businesswoman and entrepreneur Kris Jenner dodged a question about a possible engagement when she appeared James Corden's talk show.
Corden shared a clip of the "Spill Or Fill Your Guts" challenge. Jenner and Corden took turns asking each other personal questions about their families and careers.
They could either answer the question, or take a bit of the buffet of disgusting food on the table which included deep-fried crickets, hot sauce, sardine smoothie, and cow's tongue.
Follow our Twitter account @amomama_usa to learn more about Jenner, and scroll down to see the challenge.
Corden gave her the option of answering a question about her partner Corey Gamble or eating a deep fried cricket. His question was:
"You've been spotted wearing a massive diamond ring on your wedding finger. Are you and Corey Gamble engaged?"
Jenner said "No" but reached for the cricket and clarified that she would not be answering that question. Corden tried to persuade her by saying the ring is already on her finger.
One of the other questions he asked during the segment was related to the Kardashians' reality show: Which daughter would she cut from the show if she had a chance?
Jenner refused to answer that one as well and took a sip from the sardine smoothie instead! She couldn't do that to her babies, she explained.
Gamble and Jenner had been dating since 2014, and the duo recently went to Italy for a vacation with Roberto Russo, Tommy Hilfiger, and his wife, Dee Ocleppo.
The 37-year-old tour manager from Atlanta, Georgia, worked with Justin Bieber when the pop-star just rose to fame, and the two remain close friends to this day.
Gamble appears regularly on "Keeping Up With The Kardashians," and while he gets along fine with Kanye, he and Khloe don't always see eye to eye.
Watch the next episode of "KUWTK," titled "Drop Dead Gorgeous," on Sunday at 9 pm on the E! Network
Please fill in your e-mail so we can share with you our top stories!