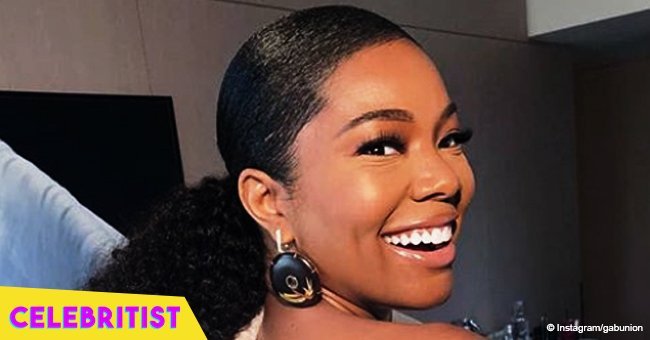 Gabrielle Union flaunts chopped hair in floral maxi dress with black lace panel in new photo

Gabrielle Union has worn nearly every hairstyle in the book, but this is the first time the actress will cut her natural hair. She appears to be loving it though because she continues to dish out photo after photo for the viewing pleasure of followers who say she's "stunning."
In the pictures shared to her 10.4million followers, Union is wearing a floral maxi dress with thin straps and a plunging V neckline. The dress also features a lace panel detail towards the end. In one of the pictures, the "Being Mary Jane" star is seen smiling happily with her head tilted to the side in a full shot. Her caption couldn't have been more accurate as it completely captured the relaxed expression on her face:
"Joy. Peace. Grace. Reclaimed"
Folks were all for the hair and said as much in her comment section. Instagram user @marshnixx gushed: "So chic!!! Love your short sassy hair!!!"
Another user @jackievales wrote: "Aging in reverse. Just finished your book, an amazing read."
For years, admirers of the 45-year old "Breaking In" actress have wondered about the secret to her flawless skin and incredibly toned body. Many women half her age would do anything to have her body but the award-winning actress remains humble about all the attention.
She never hesitates to share her struggles, reinforcing the fact that she is only human like every other person. Union, who is married to basketball star, Dwayne Wade, has been very open about her struggles to conceive. She revealed in her tell-all book, "We're Going To Need More Wine":
"I have had eight or nine miscarriages. For three years, my body has been a prisoner of trying to get pregnant — I've either been about to go into an IVF cycle, in the middle of an IVF cycle, or coming out of an IVF cycle."
But just as she advises women in similar situations, Union is not letting her condition define her. She is living her best life and loving herself wholly. She returned about two months ago from a vacation tour with her husband and a few friends and documented the fun on her Instagram page.
Please fill in your e-mail so we can share with you our top stories!