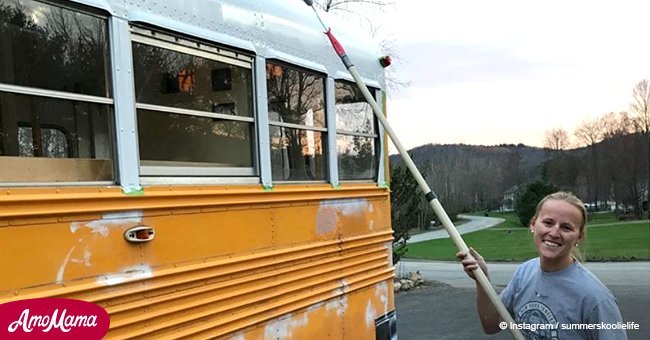 Family transformed old school bus into tiny house and it looks stunning
A married couple bought a yellow school bus and transformed it into a tiny mobile house. Afterward, they spent six weeks touring the country.
Andrew and Steph McArthur, both teachers from Greenwich, New York decided to work on their tiny house project in October 2017. They purchased an old, yellow school bus and called it Rusty.
The couple asked Steph's father for assistance, and together they turned the beat-up old bus into a tiny house on wheels.
Even though space is limited, the mobile home still features the comforts of a regular house.
Follow us on Twitter at @amomama_usa for more stories and updates.
Rusty is complete with its reclaimed wood countertops, a solar-powered fridge, sink, living room, bathroom, and sleeping area. It even has enough storage space.
As soon as their project was finalized, the McArthurs hit the road and took their dog with them.
They enjoyed six weeks of cruising the country in their trusted Rusty. Speaking about their adventure, Steph told Good Morning America:
"[This trip is] really to explore this alternative lifestyle."
Although, it wasn't all fun and games for the couple. They also faced a few bumps on the road, like unpaved road changes or almost running out of gas, as revealed on their Instagram page.
By the end of their journey, the couple was happy with the memories they made along the way. They also encouraged other travelers to follow their dreams of going on adventures.
Steph said, "Don't just sit on Instagram wishing you could do all these things people are posting about. If you actually want to do it, just go do it!"
Aside from Rusty, the couple owns a real home and exclaimed that they don't plan on selling the house.
Living on the road was just something fun and adventurous that they wanted to try for a short amount of time.
In another related story, a man decided to build a home in the middle of the woods using three shipping containers.
Please fill in your e-mail so we can share with you our top stories!