Florida school shooter Nikolas Cruz aims fake gun at his own head
A new video showing Nikolas Cruz, the nineteen-year-old man who killed 17 people in the Marjory Stoneman Douglas High School held on February 14, was released.
In it, the man was seen sitting in front of Broward Sheriff's Detective John Curcio talking about the "demons" he allegedly has been hearing for a while. Even though the things he said were nerve-wracking, his actions were the highlight of the entire recording.
At one point of the almost 12-hour-long video, Curcio left the small room both men were in.
Cruz started staring up as if he was looking for the CCTV cameras and, when he found one, he aimed a fake gun at his temple and "shot." Apart from that, he could be seen muttering "kill me."
Video shows massacre suspect Nikolas Cruz slouched, punching self in face https://t.co/OywVAPcGMr pic.twitter.com/TN8i5pQRgD

— WLOS (@WLOS_13) August 9, 2018
Later in the video, which was edited to remove his confession of the crime he committed, Cruz was seen punching himself hard in the face and head and even picking up an object from the floor that he later used to scratch his arms. Read more about similar topics on our Twitter account @amomama_usa.
Nikolas Cruz blamed a "demon" voice inside his head for his actions. The voice, Mr. Cruz told police, gave him instructions: "Burn. Kill. Destroy." https://t.co/LGZqA0aZPo

— Patricia Mazzei (@PatriciaMazzei) August 7, 2018
Most of the conversation Curcio and Cruz had was about the supposed demons in the 19-year-old man's head who urge him to "burn, kill, destroy" everything. One of the most remarkable aspects of the video was that Cruz made gun motions that "shot" him in the head and chest only when Curcio was not in the room.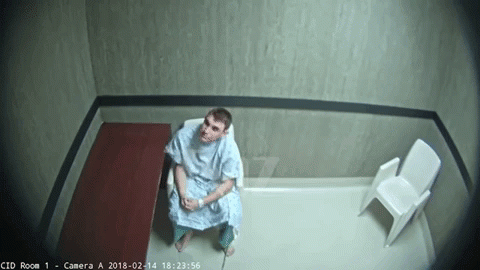 Daily Mail reported that the video and redacted 200-page transcript of the statement, which was taken hours after the school shooting, were released after a judge declared that the portions of the clip that didn't have Cruz confessing the crime should be made public.
Among the things he addressed in that statement, there are the death of Cruz's parents, his desire for killing animals, his ex-girlfriend, his brother, guns, suicide attempts and, especially, the "demon" voice.
The alleged demon voice appeared when Cruz's father passed away about fifteen years ago. Unfortunately, everything got worse when his mother died.