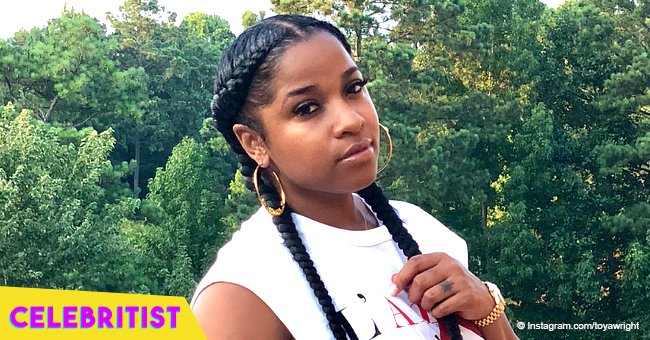 Toya Wright reveals massive hair loss problem in recent video

Toya Wright kept it real in her latest post where she shares a video revealing her alarming hair loss. The new mom opened up about her latest struggle that came after her recent childbirth.
It's been six months since Toya Wright welcomed her bundle of joy, a daughter she named Reign and shares with her partner Robert Rushing. The last time she gave birth was 20 years ago when she welcomed her daughter Reginae Carter with Lil Wayne. And while it seemed like she had a smooth postpartum experience after Reign's birth, Toya now reveals it came with a terrifying reality. She was losing hair.
On Thursday, the 34-year-old took to her Instagram to share her latest experience as a new mom. She featured a video where she gives fans a peek into the edges of her hair that seemed to have thinned out. After doing some research, Toya learned she was suffering from postpartum alopecia and she used her post to educate her fans about the condition.
"Postpartum Alopecia Is so real. I didn't know why my hair was falling out. I just noticed my edges and the middle of my hair were getting super thin. Every time I would wash my hair it would come out in chunks. I've always had full edges. I did some research and found out that new moms are surprised to be shedding more hair than usual in the first few months after giving birth,"
Despite her alarming loss of hair, Toya assured her fans it wasn't anything to worry about because it was "perfectly normal" for mothers like her to be going through what she was and it was temporary.
"there's no need to panic: Your hair should be back to normal around your baby's first birthday. That's way too long to be without edges but it's a part of the beauty of giving birth."
Postpartum alopecia occurs when increased estrogen levels during pregnancy suddenly take a dip after giving birth. The estrogen provides that extra strength to hold strands in place and when that decreases, there's a chance hair will fall off. Breastfeeding mothers are also at a higher risk of losing hair because of increased prolactin levels which results to the thinning or areas surrounding the hairline.
Though there isn't any known remedy for the temporary condition, the American Academy of Dermatologists recommends experimenting with shampoos and conditioners designed to add volume to the hair. It is also advised to avoid heavy "conditioning shampoo." Conditioners must only be applied at the ends of the hair. A haircut is also an option if these efforts don't work.
Toya isn't the first celebrity to have encountered postpartum alopecia. Her former friend Tamar Braxton who now fashions a bald head also opened up about her struggles with postpartum hair loss.
Meanwhile, Toya just celebrated six months of pure bliss with her new daughter by sharing photos of her on social media. Just take a look at these adorable snaps.
Please fill in your e-mail so we can share with you our top stories!