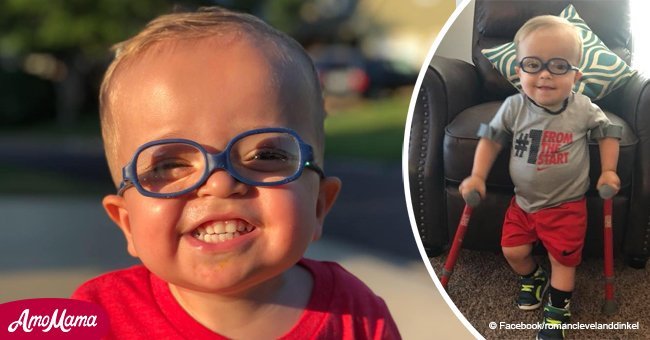 See the moment 2-year-old with spina bifida inspired millions when he started to walk
The overjoyed mother captured a video of his toddler overcoming his birth defect and walking confidently with a pair of crutches.
A short footage of 2-year-old boy Roman Dinkel touched several hearts on social media when it showed him taking his first few steps walking.
The first few steps that little Roman took were nothing short of a great victory since he was diagnosed with an incapacitating defect in his body even before he was born.
As reported by CBS, at the 20th-week ultrasound of his pregnant mother Whitney, the doctors informed her that the baby had spina bifida, a condition which impacted the development of the spine.
Recalling the time she found out about the condition, Whitney stated that like any expectant other, she had anticipated that the doctors would discuss the usual details, like the size of the baby's head and feet.
Read more about similar heartening stories on our Twitter account @amomama_usa.
However, she and her husband were given the difficult news, and although they were shaken by it, the to-be-parents were determined to help their child overcome the defect.
This meant that Roman had to be operated when he was still in the womb, in which doctors would try and improve the chances of the baby walking as a toddler.
The proud mother shared that when Roman began to try walking, she had to often restrict her urge to physically support him or keep him from falling. This taught Roman how to catch himself and shield himself from toppling over.
The little boy is said to have put in a lot of practice into walking, and the world was thrilled to see his first successful attempt at it.
In the video, the boy is seen looking pleased with his newfound ability, and he calls out to his pet dog named Maggie in excitement, exclaiming that he could walk.
Whitney revealed that shortly after she posted the video online, she and her husband began receiving numerous heartening messages from viewers.
Among these messages, some strangers have shared their stories of despair and how the video steered them towards feeling hopeful and positive.
The little toddler's mother found it humbling that Roman managed to touch people's lives through a seven-second footage.
Please fill in your e-mail so we can share with you our top stories!