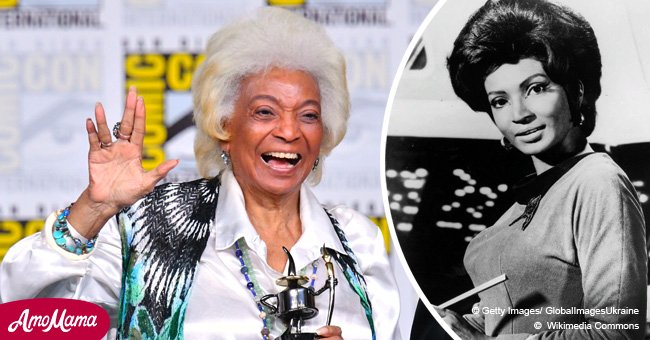 Renowned Hollywood actress from the sixties reveals disease diagnosis
"Star Trek" star Nichelle Nichols was diagnosed with dementia. Her reports suggested that the disease has progressed into advanced stages.
As reported by TMZ, Nichols has been regularly visiting Dr. Meena Makhijani for the last two to three years. Makhijani specialized in osteopathic medicine and shared that Nichols had "moderate progressive dementia."
Makhijani explained that the severity of the disease depended on the rating of various cognitive functions. She enlisted many factors regarding her diagnosis of Nichol's dementia.
She shared that Nichols had significant impairment of her short-term memory and moderate impairment of understanding abstract concepts, sense of place and time, and immediate recall.
Read more about Nichelle Nichols on our Twitter account @amomama_usa.
Kyle Johnson, Nicholl's son, recently filed legal documents on Friday that resulted in the nomination of four fiduciaries to become the 85-year-old's conservators.
This role will give the conservators the control over the decisions about her health along with her finances. Johnson claimed that her dementia impacted her executive functioning making her prone to undue influence.
"Certain individuals have unduly exerted themselves into Ms. Nichols' life to her detriment."
Kyle Johnson, TMZ, April 4, 2018
The legendary actress has had her share of health scares in the recent years. In 2015, Nichols was rushed to the hospital after she suffered a mild stroke.
Besides her classic performance as Lieutenant Uhura in the "Star Trek" series, Nichols appeared in small roles on television and films.
Her most recent works include the role of Neil Winters' aging mother on "The Young and the Restless" in 2016. She received her first ever Primetime Emmy nomination in the category, "Outstanding Guest Performer in a Drama Series."
Moreover, Nichols tried her hand in the music industry. She released two albums, "Down To Earth" in 1967, and "Out of This World" in 1991.
Please fill in your e-mail so we can share with you our top stories!