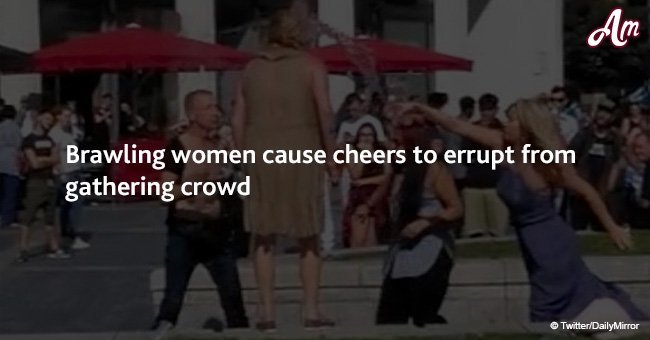 Brawling women cause cheers to errupt from gathering crowd
A drunken brawl involving three women became the center of attention near a pub in Bradford City. As soon as the fight started, bystanders cheered them on and started applauding.
A video of the altercation was captured and was revealed by UK's LBC. The fight, which occurred near a grass pillar outside a Wetherspoons pub, started with a blonde woman fighting with a man with a ripped shirt.
At first, he was the one verbally fighting with the blonde woman, but he ended up breaking the fight when two of his female friends started to attack the blonde lady physically.
The three-minute-video captured using a phone camera was reportedly taken on August 4, 2018.
Follow us on Twitter at AmoMama USA for more details and updates.
The video began with the blonde woman wearing a beige dress lying face down outside the pub. She appeared to be intoxicated with alcohol, according to reports.
She may have had too much to drink since she once again fell on her back on the pavement after attempting to stand up. After she stumbled, bystanders around her roared into laughter.
After a while, she walked towards the fountain and headed straight towards the man in a ripped t-shirt. The man was with two female friends.
As the blonde woman verbally attacked the man, one of his female friends in a purple dress threw her drink, and it landed on the blonde woman's face.
Soon enough, the fight began. It was the blonde woman against the man's two female friends.
The blonde woman didn't stand a chance against the two as they pulled her hair and hit the blonde woman's head on the pavement.
The man in the ripped shirt tried to diffuse the fight and was helped by other passers-by.
Throughout the entire brawl, bystanders around the fountain were yelling and applauding as they watched the three women fight against each other.
The video ended with the blonde woman walking away from the scene as she was bruised and outnumbered.
According to the West Yorkshire Police, three women and man were arrested for suspicion of affray but were released later on. At present, the investigation continues.
Please fill in your e-mail so we can share with you our top stories!