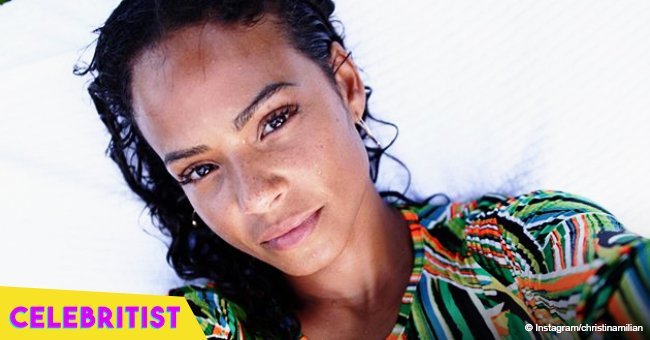 Christina Milian gets dragged after sharing picture with her 8-year-old daughter

Singer and actress, Christina Milian took to Instagram to share a cute photo of her and her daughter, Violet, but most of her followers saw something else and dragged her mercilessly.
In the picture, Milian is dressed in an orange-patterned playsuit with a large cut-out that put her toned midriff on display. She accessorized with strappy platform sandals, a bamboo bag, and orange-tinted sunglasses. She draped an arm affectionately around her eight-year-old mini-me who is wearing a sleeveless white top and denim shorts. Both ladies wore huge grins in the photo.
In the caption, Milian referred to her daughter with singer, The Dream, as "The Apple to my Orange," but her followers were more interested in Violet's appearance. Milian's comment section was soon filled with comments branding her a bad mother:
"There's no excuse for this. She's in the public eye. Her reality is a lot different than the average kids and she gonna struggle with self esteem issues when she's older due to lack of care for him image now. These pictures will haunt her and it's not about her being a child. There will always be a comparison to you from her and the lack of representation will cost. Christina needs to do better with this, she's a young lady not a toddler anymore. Self care is important [sic]"- @ninaraeboe

"@christinamilian every pic I see of your daughter she always looks a mess [sic]"- @daboyzmom76

"@jmb.x3 I'm a mother and my child never walks out the house looking like that. Ever! I go out looking a mess but my child never does [sic]"- @averysmom22l
But Milian, who recently took a vacation with her ex-husband's current wife and kids, was not about to let all the insults slide. She shot back a reply, revealing that her child had just come straight from the pool in the controversial picture:
"@kelseydeuelhair exactly. People are so lame. Geez.. I was doing a shoot so that explains why I'm so dressed up. But she was fresh off the plane, went to the pool and was having the time of her life being with Mommy while I worked. Either way, V is very well taken care of- every strain of her beautiful messy hair down to the tip of her yummy toes- we good."- @christinamilian
Just last April, the singer was trolled by Instagram followers who thought she looked thin in a picture she shared and told her she looked better when she was "thicker." She promptly replied the body-shamers, saying:
"Thicker Me was out of shape."
Meanwhile, in May, Milian, who is currently dating French musician, Matt Pokora, confessed that she's looking forward to getting married and having kids again.
Please fill in your e-mail so we can share with you our top stories!