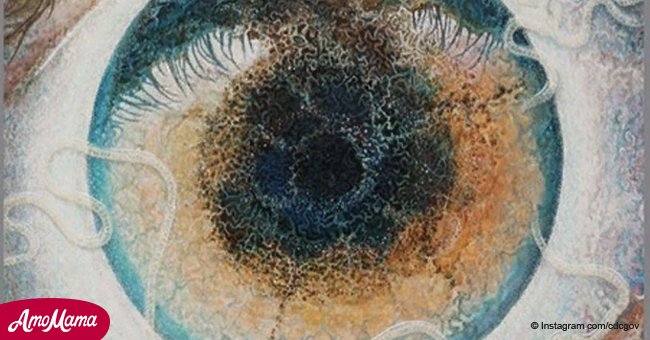 How hidden details in an artist's painting was a stark warning of a terrible diagnosis

British artist Ben Taylor said he didn't know why he painted it. However, the wormlike patterns of the painting symbolize years of spiraling into an unknown disease that had driven him to depression and sometimes even thoughts of killing himself.
The painting, which he called "Untitled," was an abstract confluence of psychedelic colors and wormlike patterns inside a perfect circle. In 2014, he gave up on the painting and shelved the unfinished work.
The 47-year-old painter and musician had been experiencing many symptoms his doctors couldn't explain.
One morning, Taylor saw a faint yellowish lump protruding from underneath his left cornea.
He also felt his eye vibrate. When he rushed to a mirror, he found that the lump had vanished. It was substituted by a thin line which was also protruding.
Follow us on our Twitter account @amomama_usa to learn more.
Taylor remembered thinking that he got a worm in his eye. He then went to a hospital near his home in Dartmoor in southwestern England, where the doctor scalped a tiny part of his eye's outer layer.
While he kept his head still, the doctor pulled out the parasite - an inch-long roundworm called Loa loa. The doctor put it in a container, and he watched it die.
In 2015, Taylor was diagnosed with Loiasis, commonly known as African eye worm. It's a condition caused by the parasite Loa loa.
The infections caused by Loa loa had endured in the jungles of Gabon, a Central African country, for years.
Taylor contracted Loiasis, which is often asymptomatic, after he spent several days in the jungles of Gabon in 2013.
Referring to his diagnosis, he said: "I suppose there was almost a sense of relief . . . just because I realized I wasn't going mad."
Taylor, who was hospitalized for a week, said he had spent many times near a wood fire in Gabon.
He suspected that the parasites must have entered his body through an itchy cut he had on his leg.
Taylor started to paint again while recovering. He found his unfinished work "Untitled" in his home studio.
He said he finally realized what it looked like. The perfect circle was the iris, and the dark wormlike patterns converging in the darkened middle form the pupil.
Taylor decided to finish the painting and the "Untitled" became "The Host."
"I definitely believe that the worms had a hand in that painting," he said.
"When you kind of look into the nitty-gritty of how much of the human body actually contains your DNA versus the billions of different bacteria that live within us, you start realizing that you're an ecology of beings that live within us."
Taylor has fully healed. He called his former squatters "creative worms."
Looking back, he said: "I realize how strange and interesting it was to have my artwork subconsciously guided by a bunch of creative worms. It has made me wonder who the artist is, really?"
Please fill in your e-mail so we can share with you our top stories!