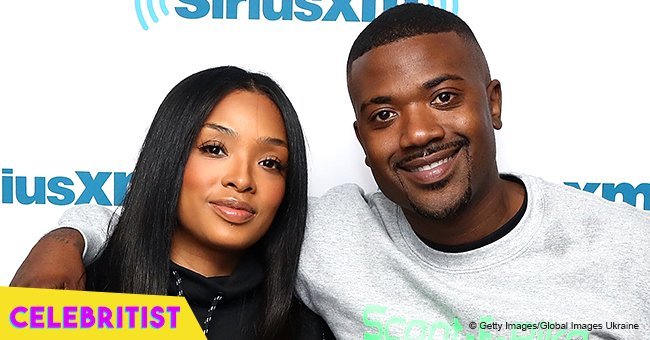 Ray J and Princess Love slammed after sharing sweet pic of baby Melody sleeping

An adorable photo of Ray J's wife Princess Love and their daughter Melody sleeping has become the subject of debate among fans. Many expressed their alarm over one particular detail in the photo while others thought it shouldn't be an issue. To clear the air, Princess took to the comments section to explain the situation.
Fans scolded Ray J and Princess Love over a recent photo the singer posted. Ray-J's wife and daughter were sleeping in the pic, but something caught fans' attention that prompted their negative thoughts.
Since welcoming their child into the world, Ray J and Princess Love have been flaunting her on social media to the delight of their fans. Many have been witness to little Melody smiling, being fed, reacting to her parents and even sleeping.
On Tuesday, Ray-J once again shared a photo of his two-month-old sleeping beside her mother as he expressed his deepest sentiments about them in his caption.
"I'd give my life for you both!! You're all i got! @princesslove @melodylovenorwood."
The heartwarming post was intended to express Ray-J's joy over being a father and the peacefulness of watching his family sleep. But that's not how some fans reacted to it. In fact, many chose to overlook that and instead focused on an aspect that they claimed should be cause for alarm.
In the photo, Princess was snuggled up in a knitted blanket as she slept on her side while her daughter lay on her stomach beside her. Melody's sleeping position didn't please fans who alerted the couple of its dangers.
"That's not safe she should only be on her stomach when it's tummy time"
"Y'all being careless! No baby should sleep on their belly at all! Poor thing not breathing right."
"I've lost a nephew to SIDS. This picture scares me. But she's a beauty."
Sparking a debate, other fans chimed in to defend the couple.
"Princesslove!!! Don't let folks get to you!! YOU THE MAMA! I let all my 3 sleep that way. Y'all baby is already far advanced than some you can tell.. she's very smart."
"Ya'll need to mind yo damn business worrying about how her baby sleeping."
But Princess wouldn't let all that go on without a response. So she took to the comments section to diffuse the situation.
"Calm down people we only let her sleep on her stomach when we're watching her… Ray is always watching us sleep."
"No need to explain we #Parents know when to let our child sleep comfortably lol both my daughters hated sleeping on their backs. Love it!! Some Babies sleep best on their belly's despite what people say. Don't you hate when some tries to check you about your own damn baby?! Like do you really think you care more about MY baby then I do? FOH."
May 22 was the day Ray-J and Princess first held their daughter and began their journey as parents.
"Proudest DAD on the planet!", Ray-J wrote on the day his daughter was born and added,
"Can't explain the feeling — no words could mean it! I understand what parents feel now and why the love and bond is from God above!"
Ray-J and Princess' journey into parenthood is currently being featured in 'Love & Hip Hop: Hollywood." They've been part of the show since its launch in 2014. Two years later, they tied the knot at the Vibiana in Los Angeles. They initially struggled with conceiving a child, and when they finally found out Princess was pregnant, they waited until the second trimester to share the news.
Please fill in your e-mail so we can share with you our top stories!