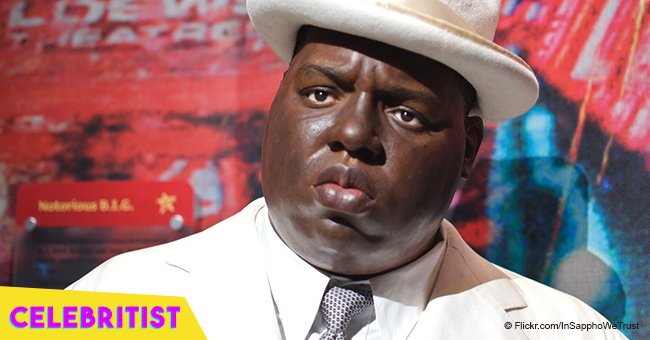 Notorious B.I,G.'s only daughter turns 25 & sizzles in lingerie for her birthday pic
T'yanna Dream Wallace shared a saucy series of photos to celebrate her 25th birthday. The daughter of the late rapper Notorious B.I.G. who just launched a clothing line celebrating her father's legacy was dressed in a skimpy pink lingerie and smoking a cigarette in her sizzling post.
Notorious B.I.G. may have left this world over 20 years ago, but his only daughter, T'yanna Dream Wallace, who just turned 25 on August 9, is making sure his memory lives on.
T'yanna's father may have been a superstar during his reign in the music industry but he was also a loving father. He sired two children, T'yanna and a son, Christopher Jordan Wallace.
Last year, T'yanna launched her own store she lovingly named 'Notoriouss' after her father. The clothing boutique located in Brooklyn, houses merchandise that carry on her father's legacy in one way or another. During her interview with iHeart Radio this year, she revealed her passion for fashion began in high school. After majoring in business in Penn. State, she thought about starting her own clothing line.
"Around my sophomore year, I was like, 'I really want to start a clothing line, and I really want to do something dedicated and kind of inspired by my dad. So, that's how the name Notoriouss came about, and that's how I kind of started doing my clothing line straight from college."
T'yanna also disclosed that because she wasn't musically inclined like her father, she couldn't continue on his legacy in music. So she decided to just use her clothing business as a means to keep his name alive.
T'yanna is proud of the fact that her father had made a mark in this world in his early life. He passed away when he was only 24 and yet he had done so much in the music industry. Now that T'yanna is 25, Biggie must be proud of his daughter who, like him, is making her own mark in the industry she's chosen.
T'yanna's turning 25 didn't go unnoticed as she celebrated with a lingerie photo shoot she shared on her Instagram. The saucy series of photos showed her wearing a skimpy pink bra and matching bikini while posing on a bed adorned with light pink balloons, a dark pink blanket and stuffed toys. T'yanna carried a cigarette in her hand as she exhaled for a shot that captured the smoke that formed a haze over her face. To caption her post, she wishfully wrote,
"This that new you, this ain't high school"!!HAPPY 25th BIRTHDAY TO THE PRINCESS!! I hope I make 25 billion dollars this year!"
On March 9, 1997, Biggie, born Christopher George Wallace was traveling on the road after a party when an unidentified man shot him to death when his vehicle stopped for a red light. 15 years later, a more detailed autopsy report revealed he was shot four times, with one of the bullets ripping through several of his organs including his liver, heart and lung. There was no alcohol or drugs in his system.
Wallace's killer was never identified nor apprehended. His death came six months after his rap rival Tupac Shakur was gunned down in Las Vegas. Suspicions arose that both deaths were related and had something to do with their ongoing war. To this day, Shakur's killing also remains unsolved.
Please fill in your e-mail so we can share with you our top stories!