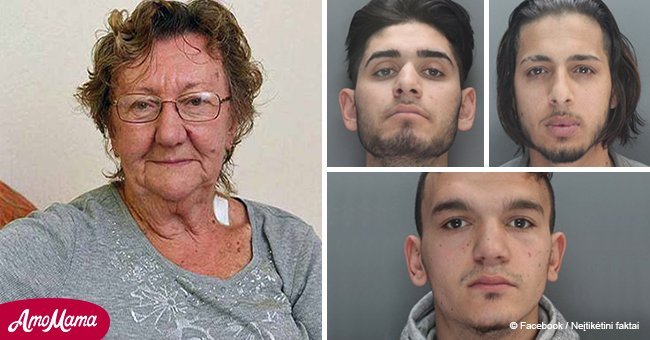 77-year-old woman fights back against teenagers who tried to rob her
77-year-old Winifred Peel showed remarkable agility and courage to fight off three men trying to mug her outside a bank in Bromborough, Wirral.
According to a report from Metro, Peel proved she was not an easy target by any means by fighting back her attackers and banging one of the muggers' heads against the cash machine three times.
The three attackers were identified to be Piper Dumitru, Florin Geblescu, and Felix Stocia, who were all from Manchester. All three of them were jailed after pleading guilty to robbery.
The culprits drove around looking for 'easy targets,' as revealed by Prosecutor William Beardmore to Liverpool Crown Court. They decided on attacking Peel after seeing her enter her pin number in the cash machine.
Follow us on Twitter to learn more.
Beardmore further stated, "The complainant became aware of somebody standing to her right. He pushed against her, causing her to rock to one side, and she recognized him as a male she had seen exiting Barclays Bank earlier."
She heard him say that the machine was not working and then leaning over her and pressing the button to withdraw a sum of about $254. At this point, she realized that she was being robbed. She also understood that there were other people behind her as well.
With this knowledge, Peel sprang into action. She took hold of the second male by the collar and smashed his head against the cash machine to stop him.
The muggers ran off after this but were eventually tracked down by the police. They later found out that the person whose head Peel smashed was Stoica.
The online source quoted Peel as stating, "They did not care about how this would affect me. I would definitely say this has changed my life, I will never have the confidence I once did."
It was further disclosed at the court that Stoica had previous convictions for robbery while the other two's records were clear.
The court sentenced Stoica to two years in a young offenders' institution. Similarly, Geblescu was handed 18 months and Dumitru was handed eight months sentence.
Meanwhile, Shared reported that Peel's confidence in her abilities to beat three attackers came from her upbringing.
The source revealed that having grown up with three rough-housing brothers, with whom she regularly went to the gym, she was capable of not only defending herself but also counterattacking her muggers.
Please fill in your e-mail so we can share with you our top stories!