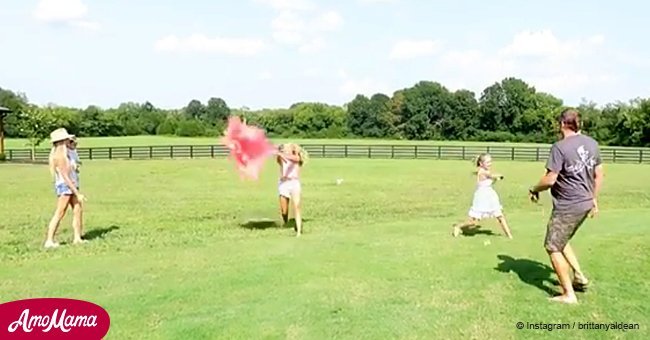 Popular country singer reveals sex of upcoming baby
Jason Aldean and his wife Brittany Aldean revealed the sex of their second child via social media recently. The gender reveal was done for the singer's older children and his fans.
In an Instagram video post, the two parents were seen hitting balls with Jason's daughters. The balls exploded on impact and revealed the sex of the baby.
On Sunday, Jason Aldean and his wife Brittany Aldean shared the sex of their second child on Instagram. The couple had announced that they were pregnant last month.
They wanted to do something special for Kendyl Aldean, 10, and Keeley Aldean, 15. The two girls are Jason's children from his first marriage.
For more on this story go to our Twitter account @amomama_usa. "This is the only thing she's talked about for the last month," Jason said of Kendyl.
"Jason and I already know what it is. This is just for the girls, to see their excitement," Brittany revealed. The sisters had both predicted that their stepmother would be welcoming a baby girl.
Both girls were equally elated after they took turns swinging at balls in the footage. When the balls were hit, they would release a pink dust, revealing that the child was a girl.
After Brittany was diagnosed with endometriosis, she underwent IVF treatments to conceive their son, Memphis Aldean. He was born in December 2017.
"The IVF was probably harder than the actual pregnancy, for me, because it was just such a roller coaster and so difficult," Brittany told People earlier this year.
"It's such high highs and such low lows, and no one really knows that you're going through it all so you have to just put on a game face and pretend that you're not giving yourself shots in your stomach every day, all day," she added.
After giving birth to her son, Brittany said, "HANDS DOWN THE HAPPIEST DAY OF MY LIFE!!!"
Please fill in your e-mail so we can share with you our top stories!