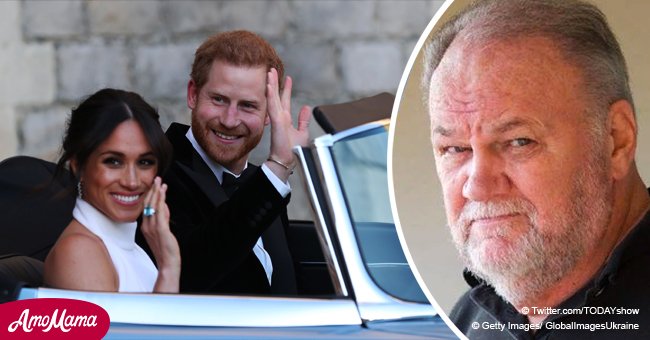 Thomas Markle hung up during his conversation with Prince Harry
Duchess Meghan's father, Thomas Markle has done another interview recently. In it, he revealed having a phone conversation with his daughter's husband Prince Harry.
During the phone call, Markle claimed that he hung up on the Prince after been reprimanded. He was scolded for speaking to the media during the staging of his photos.
Thomas Markle, 74, revealed how he hung up on Prince Harry during a heated telephone call. The phone call came after he was exposed for staging paparazzi photos.
According to Markle, he also confessed to lying to Prince Harry when he was asked if he had co-operated with a paparazzi photographer to pose for shots. One of the images showed Markle apparently being fitted for a wedding suit.
For more on this story go to our Twitter account @amomama_usa. The Duchess' father told his soon-to-be son-in-law that he was being 'measured for a hoodie.'
According to the interview, which is meant to be Markle's last one, he and Harry had enjoyed a series of 'warm and chatty' phone conversations before the Prince married his daughter.
The two even discussed what to do when news of the relationship became public. The Prince advised Markle to avoid the paparazzi at all costs.
"Harry told me that I should never go to the press. That it would end in tears. He said, 'They will eat you alive.' He was right,'" the Duchess' father shared.
Despite the advice, Markle chose to make a secret arrangement to pose for a series of pictures for the media. The photos made thousands for the photographer and a smaller amount for the retired father.
Harry then called Markle to ask if he had co-operated for shots which showed him, among other things, supposedly being fitted for a wedding suit. That's when the Duchess' father lied.
After the truth came out about Markle staging the images, Harry and Meghan called him again. At the time, he was in a hospital recovering from a heart attack.
According to Markle, the Prince told him, "If you had listened to me this would never have happened." The Duchess' response was, "Maybe it would be better for you guys if I was dead… then you could pretend to be sad."
After having his say, Markle hung up on Harry. He admitted during the interview that the Prince was right for admonishing him.
Markle shared that he wasn't mad at Harry or Meghan but loved and wished them well. He did reveal, however, that he was done with the rest of the Royal Family.
Please fill in your e-mail so we can share with you our top stories!