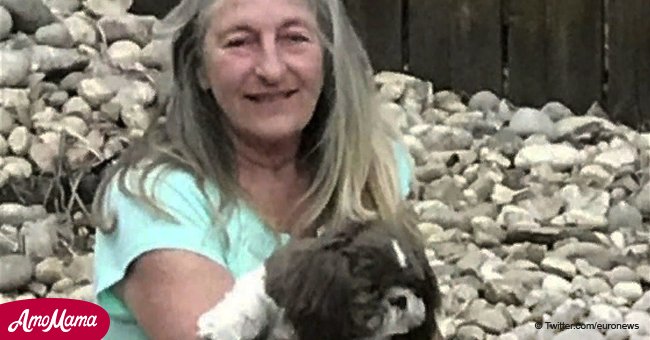 58-year-old woman killed from bacteria in dog saliva
A rare infection related to cats and dogs' saliva is starting to raise questions after it led a woman to her death a man to have his four limbs amputated.
Sharon Larson, from South Milwaukee, passed away on June 23 at the age of 58 after she contracted an infection through a bacteria called Capnocytophaga canimorsus.
As reported by NBC News, the same bacteria caused Greg Manteufel from West Bend, Wisconsin, to lose both legs and half of his forearms after being licked by his dog,
In Larson's case, she was nipped by her dog, Bo, on June 19, after which she complained that she didn't feel well. According to the Centers for Disease Control and Prevention, the bacteria is likely to affect those with a weakened immune system.
Please follow us on our Twitter account @amomama_usa to learn more.
The CDC website reveals that people afflicted by the infection are prone to several symptoms such as swelling, redness, fever, diarrhea, vomiting, headaches and muscle joint, as well as blisters around the wound in case of a bite.
WHAT DOES ONE'S IMMUNE SYSTEM HAVE TO DO WITH IT?
Larson and Manteufel's cases took place a few miles apart, which was a big coincidence considering that the blood infection is very rare, even more so when neither of the victims displayed a compromised immune system.
This has led researchers to believe that there is more to the bacteria than meets the eye. Dr. William Schaffner, who works as a professor of infectious diseases at Vanderbilt University Medical Center in Tennessee, confessed that experts didn't know why healthy people were being affected.
HOW DOES ONE GET INFECTED?
Dr. Schaffner explained that the bacteria usually 'enters the skin through a bite or when the saliva of the animal comes in contact with an open wound.'
According to Benjamin Haynes, a spokesman for the CDC, not all causes of Capnocytophaga infection have to be reported since only the most severe cases end up being life-threatening.
SYMPTOMS MAY VARY
Larson and Manteufel's symptoms were very different from each other; he was left with bruises all over his body and his blood pressure dropped, reducing blood flow in his limbs.
Late 58-year-old, on the other hand, felt extremely weak, to the point of not being able to hold a glass of water and she couldn't eat anything. Her organs started shutting down and doctors weren't able to do anything.
Despite losing their mother to the bacteria, Larson's children, Steven Larson and Stacy Larson-Hruzek, chose to keep Bo, arguing that their love for the dog hasn't changed.
Please fill in your e-mail so we can share with you our top stories!