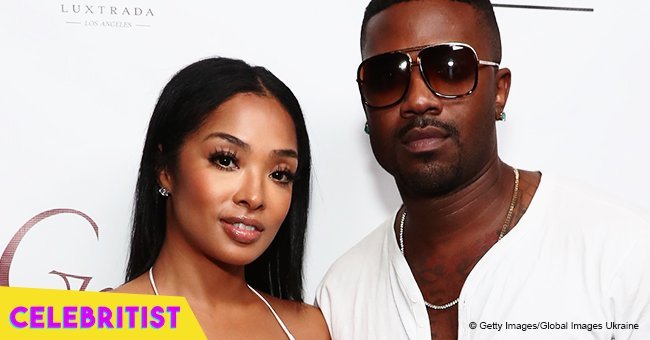 Ray J & Princess Love's daughter baby Melody melts hearts in pink outfit and ribbon headpiece in pic

Ray J and Princess Love's baby girl, Melody, is a sight for sore eyes in her cute pink getup. The 2-month old has already won over thousands of hearts keeping up with her on Instagram.
The singer and his wife jointly manage Melody's Instagram account, and they shared a photo of their little one wearing a pink outfit with bow and lace detailing. A matching ribbon headpiece is also secured around her baby curls. Baby Melody can be seen laying on her back as she smiles up into the camera.
PRINCESS LOVE COULD NOT HAVE HER WISH FOR BABY MELODY'S BIRTH
The 37-year old singer and his wife, Princess welcomed their first child on May 22 after Princess was in labor for 28 hours. The 33-year old mom revealed to OK magazine (hyperlink hip hop news) that she wanted a natural birth but had to get an epidural eventually.
"I wanted a natural birth; I'm not afraid of pain."
"I went 27 hours until my epidural, but I was barely dilating, I wanted it over with. I tried for as long as I could, I'm okay with that. The doctor didn't tell me until the next morning, but the cord was wrapped around her neck and feet and in a knot. She was stuck, her heart rate was so high, but they didn't know anything was wrong until they took her out, she didn't cry at first, but thankfully she was okay and weighed 7lbs."
Princess disclosed that they named their child after one of Ray J's songs, instead of "London Love" as she'd originally intended.
HOW BABY MELODY'S BIRTH CHANGED RAY J
The first-time dad also confessed how his daughter's birth was such a phenomenal experience for him:
"I didn't know I was that much of a crybaby. …I was up for a day and a half before because I was just so excited. We went to the doctor for the last check-up, and they said it was time to go in, everything I prepared for didn't happen. I watched the whole thing, it was so emotional, a life-changing experience. When I first laid eyes on our baby I was crazy in love, she heard my voice and just connected with me."
In a post he shared on Instagram, Ray J thanked his wife for going through so much to bring their daughter into the world. His heartfelt message reflected a newfound appreciation for mothers.
RAY J & PRINCESS CAN DO IT ALL FOR BABY MELODY
In a separate interview with TMZ before their daughter's birth, both parents insisted there would be no nanny for baby Melody. They said they were capable of taking care of their daughter because they had experience with "six dogs, two rabbits, and a bird."
WILL PRINCESS LOVE EVER RECONCILE WITH BRANDY AND SONJA?
When asked about the bad blood between his famous sister, Brandy, his mother, Sonja, and his wife, Princess, Ray J only shrugged off the question, maintaining that:
"They'll get it together. They'll get it right. Time heals everything."
PLANS TO MOVE THE FAMILY
The "I hit it first" singer, who is also a businessman, furthermore revealed plans to move his family to London:
"I just like the city, I like the people, the opportunities, and the values are a little different. I've been in Hollywood so long, I know what it comes with, I want my daughter to have a peaceful, happy life…"
Please fill in your e-mail so we can share with you our top stories!