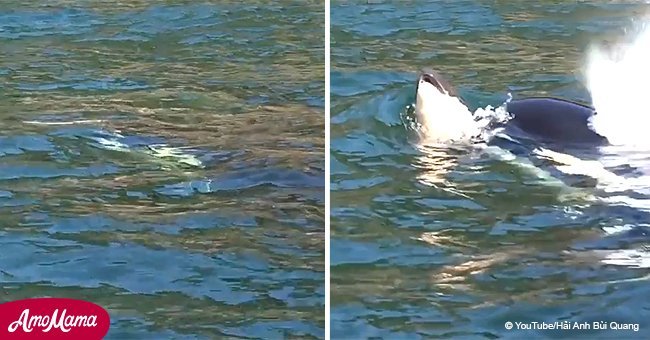 Grieving orca mother carried her dead calf on her forehead for days

An orca whale named Tahlequah gave birth to a calf late last month. Sadly, the calf died within 30 minutes of being born, and Tahlequah couldn't let go.
The whale made headlines across the globe when she began to carry her dead calf on her forehead, more than a 1,000 miles, for more than two weeks.
Read more on our Twitter account, @amomama_usa, and scroll down to see the footage.
Tahlequah, also known as J35, is 20 years old, grieved for 17 days before finally letting go. The incident baffled researches, who observed her the entire time.
The calf was born on July 24 and researcher postulated that a lack of salmon had lead to its death. When the calf began to decompose, Tahlequah let it sink to the ocean bed.
It has since been reported that Tahlequah returned to her pod and was observed frolicking off the coast of Washington, in the Haro Strait.
This is the third calf Tahlequah lost in the past eight years and the founding director of the Center for Whale Research, Ken Balcomb, remarked:
"It may have been emotionally hard on her."
Balcomb is also glad that she is eating again regularly and that she was reunited with her pod as isolation would have been the end for her.
Tahlequah is not the first ocra to carry her dead calf, and dolphins have also been observed carrying their dead.
These incidents were researched two years ago when scientists noted that dolphins and orcas mourn and "hold vigils" for their departed brethren.
Deborah Giles, a whale biologist, added:
"You cannot interpret it any other way. This is an animal that is grieving for its dead baby, and she doesn't want to let it go. She's not ready."
Orcas are dying out, and it was noted with concern that their population dropped by 20% over the past twenty years. Tahlequah's baby was the first calf in 3 years born alive.
Please fill in your e-mail so we can share with you our top stories!