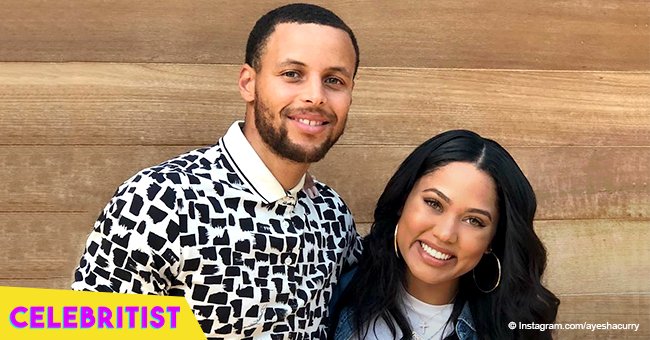 Ayesha Curry melts hearts with sweet picture of Steph playing with daughter Ryan
Ayesha Curry captures a sweet moment between her husband Steph Curry and their second daughter Ryan as they played outdoors.
It doesn't take much to make Ayesha happy, and according to her, being at home with her family would suffice. In an interview with Brit + Co, the celebrity chef shares how watching her kids grow is her favorite thing.
"When you become an adult, you wish you could be a kid again, and I get to be one with them every day — for at least a second — when we play or read or go on an adventure."
That's precisely what Mrs. Curry did as she watched her amazing husband play with their daughter Ryan, who was all smiles as her dad lifted her up in the air. The little girl wore her hair in adorable pigtails, which showed off her natural curls, a white shirt, pink jacket, and a pair of checkered shorts.
According to the doting mom and wife, moments like these are the ones she lives for. Her caption read: "the moments I live for. Just love these two. My babe and Ryan."
Earlier this week, Ayesha shared a throwback photo of her and her husband, particularly on the day they made their relationship official. The cute photo shows the couple taking a selfie from a decade ago, which proved how their love for one another just continues to grow through the years.
"Can't believe my babe and I have been loving each other for a DECADE! Feels like yesterday. This is the day we made it official! 10 yrs to the day. I love you @stephencurry30 !!! Yung Eesh:19 Yung Chooch:20"
Just recently, the lovely couple also celebrated their 7th wedding anniversary together, showing off their sweet sides on Instagram as they wrote one another some heartwarming messages.
The Currys continue to prove that they are not just "couple goals", but are the ultimate "family goals". Through the years, Stephen and Ayesha have not only proven themselves to be completely smitten with one another, but also to be two of the best parents on Earth.
Please fill in your e-mail so we can share with you our top stories!