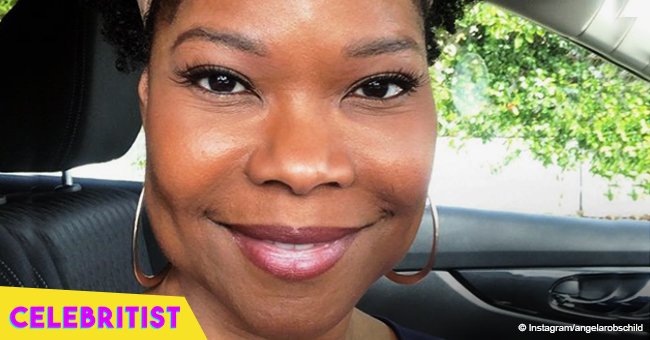 'The Haves & the Have Nots' Angela Robinson flaunts enviable curves in yellow dress in new pic
The beautiful actress plays a villainous role on the popular series that has made her a household name, but in reality she has a very different personality.
Angela Robinson, who plays Veronica Harrington on "The Haves and Have Nots," has had a busy year in 2018. After more than two decades of marriage, the 54-year-old and her husband, Scott Whitehurst, decided to adopt a baby.
The couple has been basking in the glow of new parenthood after they welcomed their son, Robinson Scott, to the family on Father's Day in June.
She took to Instagram on June 17 to share a photo of herself and Whitehurst cooing over the smallest member of their family as she held him.
It seems she has easily adjusted to motherhood, as she has been actively sharing photos to her Instagram account of all sorts of outing and functions she has since undertaken for work.
Season 5 of "The Haves and The Have Nots" is currently airing, and the actress is doing plenty of PR work surrounding the show.
One recent photo, which she posted after the premiere of the new season, showed off her gorgeous curly hair framing her face. She had a natural makeup look, with just a slight hint of pink on her lips.
She appeared to already be in the car on her way home from the airing, thanking everyone in her caption.
"Thank you family for an awesome season premiere! See you next week for more drama. On this #wcw I send Big love, hugs, and mad respect to two of the hottest ladies on TV @presilah and @antoinette," she wrote.
Another photo, shared just days before, showed her standing next to a friend in a stunning bright yellow dress.
The garment fell to mid-thigh length, and had a flared skirt. The top had no sleeves, just thick straps running over her shouldders and a cape-like cut around her bust. Simple as it was, the dress popped with color, highlighting her beautiful skin tone.
She seemed happy and relaxed in the shot, with her thick curls once again framing her face.
Plenty of fans took to the comments section to praise her for her role in the show, or even just to gush about how gorgeous she looked.
Please fill in your e-mail so we can share with you our top stories!