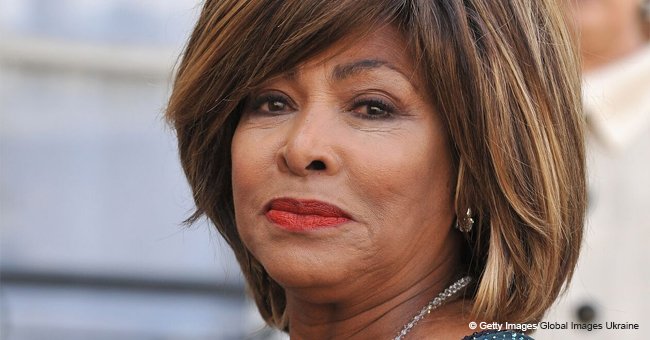 Tina Turner's 'final goodbye' to son while spreading his ashes out at sea
The singer said goodbye to her deceased son, Craig Raymond Turner, spreading his ashes in the sea off the coast of California surrounded by his family and friends, as the star shared on social media.
78-year-old American-born Swiss rock and roll star Tina Turner is going through one of the things every mother fears the most: the death of a child. Her first-born, Craig, who was 59, was found dead on July 3 at his California home.
The "What's love got to do with it" star took to Instagram on July 27 to officially announce to her fans what was going on with her private life. Read more on our Twitter account @amomama_usa.
Her post featured a snapshot of herself on a boat, surrounded by people close to her family, and with her husband Erwin Bach holding her and pointing towards the horizon as Tina drops a red rose to the sea.
Visibly sad, the singer was dressed in black pants and a blouse of the same color. She wore a grey jacket and black gloves for the apparently windy day.
"My saddest moment as a mother. On Thursday, July 19, 2018, I said my final goodbye to my son, Craig Raymond Turner, when I gathered with family and friends to scatter his ashes off the coast of California."
She concluded the caption of the picture by stating that as old as Craig was when he lost his life he was always going to be her "baby."
It took no time after the "Mad Max Beyond Thunderdome" actress shared the sad news for her followers to fill the comments section of her post with supportive messages for the artist.
"I'm sorry for your loss. You're a beautiful person, artist, woman, and mother. Thank you for your tenacity. Sending you what your music did for me," wrote user "Stardustgypsygirl."
"Mimi_deikoka" added: "So sorry, Mrs. Turner. I can't imagine burying mines. My goodness God please have mercy on his soul and give this woman the strength."
Craig's tragic death was ruled a suicide after the Los Angeles County Department of Medical Examiner's coroner determined that the fatal gunshot on his body had been self-inflicted, as People reported.
Tina gave birth to Craig in 1958 when she was just 18 and still used her given name, Anna Mae Bullock.
Craig's father was saxophonist Raymond Hill from the band "Kings of Rhythm." After a brief relationship with Hill, Tina entered her infamous marriage to Ike Turner, who adopted the child in 1962.
After Tina divorced Ike in 1979 it was widely known that her ex-husband was physically abusive towards her, and in a 2005 interview she gave to Oprah Winfrey, she revealed that this had taken a toll on Craig.
"They saw the black eyes. Ike's children never reacted, but my oldest son, Craig, was a very emotional kid. He'd always look down in sadness," Tina shared with Winfrey back then.
According to Associated Press, the recent suicides of celebrities such as chef Anthony Bourdain and fashion designer Kate Spade, who both took their own lives in 2018, point out to a wider problem: the rise of suicide among middle-aged Americans, who show the largest rate increase in the last years.
Please fill in your e-mail so we can share with you our top stories!