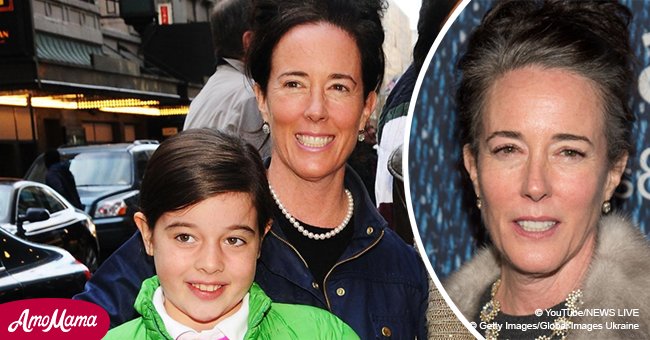 TMZ: Suicide note written by Kate Spade reportedly contained a message for her daughter, 13
Kate Spade, one of the most representative figures of the fashion industry, known worldwide for her jewelry and accessories line, and for founding the Mademoiselle magazine, left a suicide note for her only daughter.
The 55-year-old was found dead on June 5 at her home on Park Avenue, and next to her lifeless body, a suicide note addressed to her 13-year-old daughter Frances 'Bea' Beatrix was found, asking her not to feel guilty for her death, as TMZ reported.
'Bea - I have always loved you. This is not your fault. Ask Daddy!,' read the note, as the news outlet revealed. The brief note is open to much speculation about Kate's husband Andy Spade and his involvement in what happened.
Her body was found by the housekeeper of the property, who told the authorities that she discovered Spade hanging from a scarf that was tied to a doorknob.
Police sources assure that Kate suffered from a serious depression caused in part by financial problems, but mainly because her husband allegedly asked for a divorce days before the tragedy, after spending 24 years married.
Kate and Andy were married in 1994, a year after the launch of Kate Spade New York together. Three years later, the couple opened their first store and the company continued to grow for the next 10 years. Read more on our Twitter account @amomama_usa
Neiman Marcus bought 56 percent of the company in 1999 and the remaining 44 percent in 2006 when Kate left the business to raise her daughter. The company had a value of 125 million dollars by then.
On the suicide note left by the stylist, which possibly points directly at him as responsible, Andy said he didn't get to see it, but he was 'appalled' by the fact that a private note intended for his daughter was shared by the media.
'I have yet to see any note left behind and am appalled that a private message to my daughter has been so heartlessly shared with the media,' the entrepreneur wrote in a statement published by The New York Times.
Andy also denied the claims made by TMZ about the causes of Kate's suicide, saying that Kate's businesses were doing fine and despite living separately they had a good relationship and were in contact all the time.
'Our daughter was our priority. We were not legally separated, and never even discussed divorce. We were best friends trying to work through our problems in the best way we knew how' Andy shared.
'We were together for 35 years. We loved each other very much and simply needed a break,' he added.
Kate's funeral was held at a church in Kansas City on June 21, and hundreds of family and friends gathered there to remember her and say their final goodbyes. As Extra TV reported, her daughter was too upset to attend.
Kate's family is going through a very difficult time, aggravated by the sad news of her father Earl F. Brosnahan passing away one day prior to the funeral.
Please fill in your e-mail so we can share with you our top stories!