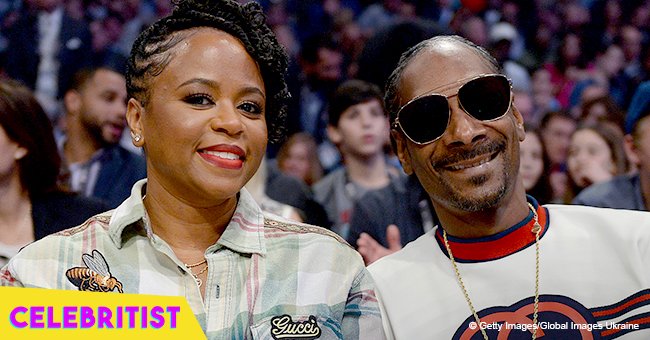 Snoop Dogg's wife shares picture with son and daughter who look just like her

Shante Broadus continues to maintain a positive vibe despite recent events that threatened to rock her marriage. The wife of Snoop Dogg was smiling in a recent pic where she cuddles in between her two children.
A month has passed since a cheating scandal erupted involving her husband Snoop Dogg. And Shante Broadus continues to glow, unperturbed by what transpired.
Back in July, Shantel's marriage was put to the test when a woman claimed she had an affair with her husband. The woman who goes by the name Celina Powell and is also known as "Black Widow" released a series of screenshots showing proof of her alleged relations with Snoop Dogg. The private messages conducted on FaceTime seemed to allude to their intimacy as there were semi-naked photo exchanges between them. Powell also claimed the rapper flew her to Colorado to be with him and that they had sex over his gospel music.
While all that seemed to threaten Shante and Snoop's marriage, it died a natural death after Snoop responded by insinuating Powell was a "clout chaser," who was part of his new show with the same title. Celina denied this and even said the show was fake.
Amidst all that drama, Shante remained steadfast in her marriage. She even posted a photo of her wedding ring to which her husband replied, "That's my work."
A month later and Snoop's wife of 21 years is relishing a moment with her children as evident in a photo she shared. Sandwiched between two of them, older son Cordell Broadus behind her and daughter Cori Broadus in front, she exuded a motherly glow no doubt because of the presence of her two loved ones. The trio sat on the steps of a staircase and matched each other in white. Cordell hugged his mother from behind her as she touched his arm with her hand. She held her daughter's hand with her other hand, making sure she was connected to both children. Cori's connection with Shante is even stronger because she looks so much like her mother.
"The Babies @cbroadus@princessbroadus My Reason," Shante wrote, and accompanied it with two heart emojis. The message spoke loud and clear that all she cared about at this point are her children.
Apart from Cordell, 21, and Cori, 19, Shante is also a mother to Corde Broadus, 23. The eldest of her three children is already a father. In 2015, his girlfriend, Jessica Kyzer gave birth a son they named Zion making Snoop Dogg and Shante grandparents.
Meanwhile, Cordell, like his older brother is a skilled football player. However, he felt the calling of Hollywood and gave up a future in the sport to embark on a modeling and movie career.
As for Cori, she's the baby of the family fondly nicknamed "Choc" by her father. She also seems to have inherited Snoop's interest in music having released singles since she was 13. In 2011, Cori was diagnosed with Lupus which saddened her father. At one point she lost all of her hair but she's doing better now and seems to be winning over the disease.
Please fill in your e-mail so we can share with you our top stories!