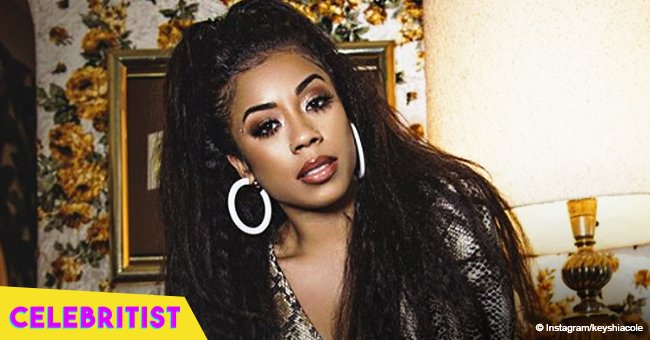 Keyshia Cole and much younger boyfriend look so in love in recent pictures amid pregnancy rumors

Keyshia Cole and her 22-year-old boyfriend are very in-love, and she made sure to prove that in one of her most recent posts on Instagram. This loved-up shot comes after she was rumored to be pregnant with their first child.
While people have been judgemental about the 36-year-old singer's relationship to 22-year-old rapper Niko Khale, Keyshia shares that she is not bothered by what they are saying, and that she will nurture whatever nurtures her.
"Now the reason I'm posting The pepper to my salt @nikokhale is because he's been such a sweetheart to me, and I kno people have been very judgmental about our relationship but I gotta nurture what nurtures me."
Now that they are much more open about their relationship, Niko has been frequenting the singer's profile more, showing off their sweeter sides. In her most recent post, she could be seen licking her beau's cheek as he happily smiled beside her. Her caption explained some of the reasons why she fell for Khale, saying he "matches my fly, [is] good-hearted, and somehow has managed to keep his promises". She even adds that she only thinks about her lover on two occasions, which were day and night.
Just last Wednesday, fans were shocked when Cole posted a photo on Instagram saying she was pregnant. When she realized what kind of attention this brought upon her, she decided to come clean and say she actually faked the pregnancy announcement.
"I kind of apologize for trolling yesterday, telling y'all I was prego. But y'all need to stop body shaming me and saying I'm pregnant every other day! Like seriously, it hurts my feelings… thought it was sweet that you all were excited about the news though."
Sharing how bothered she was about the body shaming comments she got on social media, Keyshia set a good example for many who tend to judge other people by their weight. Her recent fake announcement proves that personal questions regarding one's weight or even their "alleged pregnancies" are sensitive topics and must not be thrown around lightly.
Please fill in your e-mail so we can share with you our top stories!