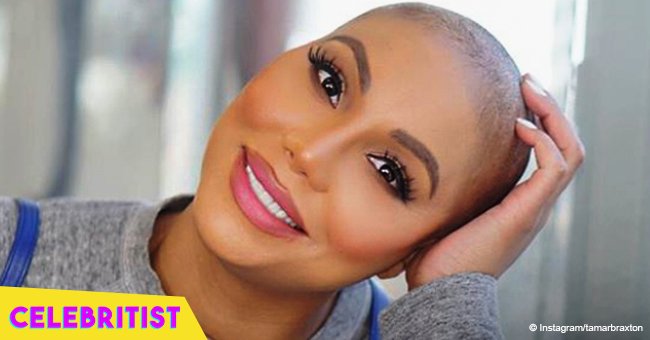 Tamar Braxton flaunts legs in glamorous dress while posing on a scooter

Singer Tamar Braxton, best known for "Braxton Family Values," took to Instagram and shared a black-and-white photo of herself on a scooter.
In the image, Tamar was posing in a striking dress with one of her legs draped over the handlebars.
She matched the outfit with a shiny headpiece and beautiful high-heels. As soon as the singer uploaded that picture, her followers took to the comment section.
One of them was Instagram user @rainy_valentini, who pointed out that Tamar looked unrecognizable.
Another user known as @_fenizrising chimed in and urged the singer to release a new album because they need to get their ears "blessed" by her music.
TAMAR'S INCIDENT WITH DELTA AIRLINES STAFF
That photo was uploaded about two weeks after Tamar was "ridiculed" by the pilot of a flight she and her sister, Towanda Braxton, were on.
In a video shared by Towanda to her Instagram account, the pilot can be seen asking the singer whether or not she would follow the flight attendant's instructions as they came directly from him.
The man then told Tamar that he didn't want to listen to anything but "yes or no." When Tamar replied that she would follow their instructions, the pilot rushed back to his seat.
Towanda made it clear that her sister was ridiculed by the Delta Airlines staff for "flying while black." She added:
"I guess being a diamond and a double million miler don't [sic] matter."
TAMAR'S OPINION ON THE PROBLEM
A member of TMZ caught up with Tamar at the Los Angeles airport a few days later. She revealed that she didn't blame the airline, only the employees who mistreated her.
Tamar pointed out that she didn't think the problem was related to her being black and that it was probably because of her reputation on TV.
Days later, People released a statement from Delta Air Lines wherein they declared that Tamar and her sister exhibited unusual behavior.
The Braxton sisters refused to acknowledge the flight attendant's instructions, so the captain had to intervene to "ensure the safety and security of the entire flight."
Please fill in your e-mail so we can share with you our top stories!