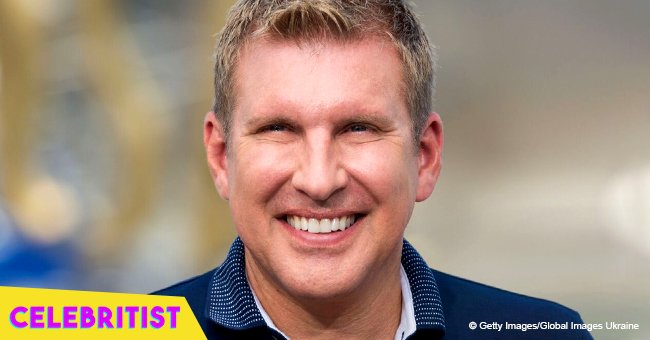 Todd Chrisley's biracial granddaughter steals fans' hearts in her cute pictures
Reality star and estate mogul Todd Chrisley melted hearts with several photos of his adorable granddaughter, Chloe, who he says has opened his family to many new experiences.
Chloe was first featured on the show "Chrisley Knows Best" when she was two-years-old. She's the daughter of Todd's estranged son, Kyle, who was featured on the reality on its first season but was removed because of his struggles with substance abuse.
The girl was born from Kyle's relationship with a woman named Angela Johnson in 2012, and while he wasn't in good condition to take care of the baby, Johnson didn't have the means to provide for her either. To give the girl a better life, she contacted Todd when Chloe was six months old.
Todd and his wife, Julie, didn't hesitate to welcome the girl into their family, and to this day, they have her full custody.
Chloe has already become a fan favorite on the show with her cute outfits and sassy attitude, and she's also taking front and center on Chrisley's Instagram page.
The 49-year-old wealthy man is often sharing adorable pics of Chloe or with her, reminding followers with his captions that she's a blessing in his life.
A set of pictures that became quite popular on social media and made people who didn't know about the Chrisleys pick some interest in them, feature Chloe in the middle of lunch with her grandfather.
Todd documented the girl's diverse expressions as she ate pizza, realized she hadn't eaten a cookie, finally devoured the treat and then realized she was being photographed.
Being the only biracial child in the family has given Chloe a lot of attention, both positive and negative, among the mainstream audience. While most fans often fill Todd's comment section with praises for the girl, some haters have dared to speak ill of a five-year-old because of her skin color.
Speaking to People magazine about what Chloe means for his family, Todd revealed that she had opened the Chrisley's eyes to many new experiences. "She's opened our mind to so many things that we didn't even know existed," he stated.
When asked what he meant by that, he said:
"We had never dealt with racism. We have learned that it's a very prevalent situation in this country. We learned that, unfortunately, the hard way with negative things that were said about her on social media."
WHERE'S CHLOE'S REAL FATHER?
Last season, Chloe was removed from the show after her father threatened to sue the network unless he received money from her appearances. Todd and his family decided it was the best to keep the girl out of the spotlight until things with Kyle calmed down.
"At the end of the day, we had to do what was best for Chloe. We did not want to drag her through all this, and there was no way that we were going to pay Kyle a penny," Todd told Radar Online in 2016.
In a futile attempt to change the narrative and turn fans against his father, Kyle went to the Daily Mail to try and discredit Todd's relationship with the little girl. He said:
"My dad showed no interest in Chloe at all until the show and until it was pointed out that having a mixed race child and getting her and all that would be good for his demographic. He didn't want to see her before then. He said he wanted nothing to do with her."
Todd clapped back by saying Kyle's comments were all lies but he wasn't about to start a war with his son.
Earlier this year, Chrisley told People magazine that Kyle has been working on getting better and he's doing great. "He's not in the spotlight, but Chloe is with us," he said. "And my hopes are that as time progresses that she will know who her daddy is and that their relationship will change at some point."
Chloe is now back on "Chrisley Knows Best" sixth season, which may be a good sign about the current status of Kyle and Todd's relationship.
Meanwhile, the little girl keeps on stealing hearts, and her grandparents couldn't be prouder and happier of having her in the family.
In a recent interview with the Tennessean, Julie revealed:
"Todd and I are both strong in our faith. God doesn't give you what you don't need. If you truly live your life that way, it's the position we've taken. She's not a mistake, and there's a reason Chloe is here. She's given us way more than we've given her."
"She's surrounded by love every day of her life," concluded Todd.
Please fill in your e-mail so we can share with you our top stories!