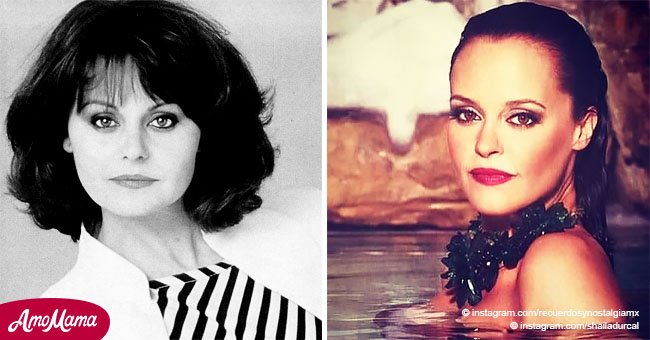 Rocío Durcal's daughter has an accident that ends in amputation
Although it is unknown how exactly it happened, Rocio Durcal's daughter, Spanish singer Shaila Durcal shared that she lost part of her index finger in an accident.
On August 11, the 38-year-old took to her Instagram account to release a brief message to her followers, revealing the situation she was going through, sending love to them and thanking them for their unconditional support.
Shaila hasn't given any further details of the incident on which she got her finger hurt, and her fans and the Spanish-language media remain very curious and concerned about her mysterious mishap. Read more on our Twitter account @amomama_usa
Apparently, not even her family is fully aware of what happened to Shaila, with her aunt Fedra Lorente sharing with ABC that her niece is out of reach and that she only learned about the accident after reading about it in the press.
According to Lorente, Shaila's sister Carmen Morales texted her assuring her that everything was fine and that once the storm clears she will release a proper statement to share more details on the issue.
"I want to tell you that I am not going through my best moment. A few days ago I had an accident that made to lose part of my right index finger. I can only pray and overcome these traumatic moments next to my family and always with your support, I love you all."
After the public heard about what happened, social media have been filled with messages of support and affection for the singer who, for is reportedly recovering with her husband Dorio Ferreira.
"Oh, I'm really sorry, I hope you recover soon, cheer up, precious, a big kiss," wrote "littleprincess_barbie."
"You'll see that everything is going to be fine. You will be happy and you will keep succeeding in your career. This is nothing for you, you have a great personality and a great voice. I see your mother in you," wrote "marialuisa_3_11."
Shaila started her music career by covering some of her late mother's biggest hits, and the quality of her voice allowed her to be recognized as an artist on her own merits, clearing the way for her to start performing live.
As her Instagram account indicates, Shaila is scheduled to start her US Tour on August 24, but given her current situation, it might have to be postponed.
Please fill in your e-mail so we can share with you our top stories!