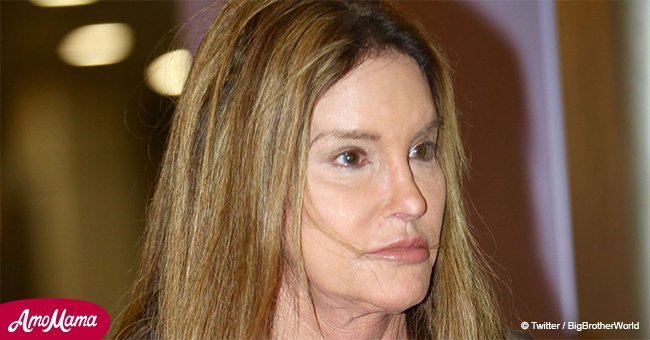 Caitlyn Jenner bares her ankles in skinny blue jeans upon arrival in London
The former Olympian, Caitlyn Jenner, showed up at Heathrow Airport in a casual outfit, showing just her ankles, as she carried her luggage.
Formerly known as Bruce, Jenner was spotted arriving in London in a loose brown shirt, skinny jeans, and white shoes.
The 68-year-old reality star looked rugged in her attire. Usually, Jenner shows off more skin, but at the time, she seemed to have opted to show off only her ankles for the trip.
The Sun revealed that Jenner might have gone to London because she secretly joined this year's "Celebrity Big Brother."
Follow us on Twitter at AmoMama USA for more details and updates.
When the report was released, Jenner had just landed, and there were only a couple of hours left before the show was launched.
This 2018, the show's theme is "Eye of the Storm," which involves celebrities who have gained media attention over a big controversy.
Reports revealed that Jenner was a fit candidate since her profile and background was perfect for the team.
It has long been speculated that Jenner could be the possible last "mystery" housemate.
In 2017, it was reported that Jenner was offered around $1.2 million to be one of the housemates. She supposedly had a meeting with the top heads of Channel 5, but the deal was said to be undone.
At the time, an unknown source said that the bosses were willing to invest big money on her since her story has captivated the world, and it would be good for the ratings.
For this year, the show has gone all out and produced the most expensive "Celebrity Big Brother" yet. They have invested big money in getting the most scandalous stars they could get their hands on.
The two highest paid stars on the show were reported to be "Emmerdale" star Roxanne Pallet and the former adult-video star, Stormy Daniels, who claimed she had spent the night with President Donald Trump.
Allegedly, they have signed deals worth a little over $950,000.
The fee is even more astounding for Daniels' case since she will only be a housemate for a week.
As for the show, it had been previously reported that this year would be the last one for "Celebrity Big Brother" after they received their lowest ratings earlier this year since the franchise began.
Because of the speculation, the media has pointed out that the bosses could be spending such a big amount of money for the latest installment as a form of last resort in saving the show.
The public would have to wait if Jenner will indeed appear on the show. Meanwhile, in March 2018, Jenner stunned her fans after she posted a picture of her swollen nose and revealed that it was a result of some type of cancer.
Please fill in your e-mail so we can share with you our top stories!