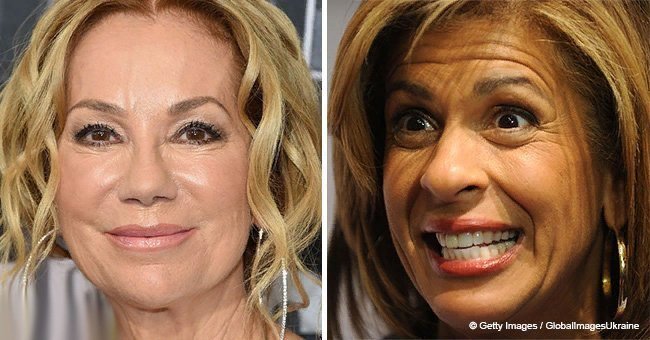 Hoda Kotb couldn't stop crying after Kathie Lee's frank confession
Kathie Lee Gifford gave a touching speech about her friend and co-worker that had the television personality reduced to tears.
Hoda Kotb, after adopting a baby in 2017, was later in that year awarded Mother of the Year at the American Cancer Society Lunch. During the event, Kotb couldn't stop crying while Gifford presented her speech.
The event was held in New York, and the co-hosts of the popular talk show relived every moment and shared it with the audience on an episode of "Today" in the October 17 episode.
Gifford was given the honor of presenting the award that was given to her friend and colleague. It was later revealed that she had not actually had a speech prepared at all, and just spoke the words from her heart.
"Hoda Kota is my Egyptian sunrise. The only thing bigger than her smile is her heart," Gifford said during her speech.
Her touching words made everyone in the audience cry, including Hoda herself, as well as Joel Schiffman, Kotb's longtime boyfriend.
Moreover, Gifford was honored to be the one who was responsible for presenting Kotb's award.
Gifford also expressed her regrets that she had not been able to comfort Hoda at the time she was battling with breast cancer.
"My only regret is that I didn't meet her earlier so that I could've been her friend when she got that diagnosis that she had cancer," she said.
During Kotb's acceptance speech, she shared that Schiffman was very excited when she told him that she wanted to adopt a baby with him.
She also recalled the story of the moment that she had received the news that her papers have been approved and that she was going to finally adopt a baby. Kotb also shared the moment she had received the news that a baby girl was waiting for her.
Kotb shared that when she received the call from the adoption agency, she then marked the exact time because she knew that it was going to be a special moment for her and her family.
Kotb's baby girl's name is Haley Joy, and she was born on Valentine's Day in 2017.
She is now 18 months old, and Kotb regularly shares photos and videos of the tot on her Instagram account.
Please fill in your e-mail so we can share with you our top stories!